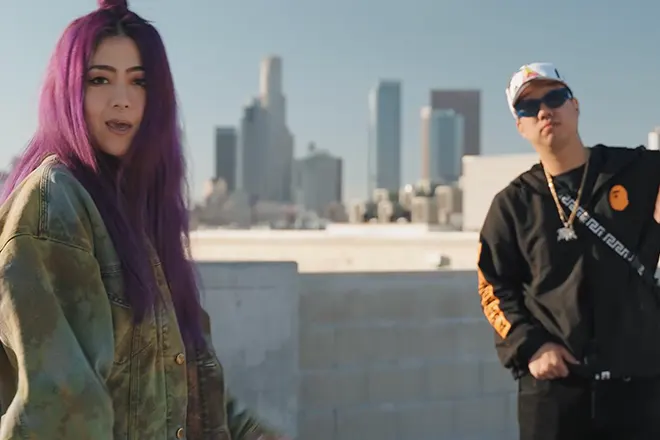 New Releases
EXCLUSIVE: RayRay & Ted Park drop new Trap stunner '6 Speed' on LiFTED Lounge
The Taiwanese Bass queen goes back to her Hip Hop roots with the Korean-American MC for the 3rd LiFTED Lounge single
---
Following on the success of our first two LiFTED Lounge singles, 'Yellow Django' by GINJIN and 'Skinny Ninja' by Yayoi Daimon, we are excited to present our first collab – '6 Speed' by RayRay and Ted Park. Most people think of RayRay as Taiwan's hottest Bass export, as she has been tearing up clubs and festivals for years now, co-signed by Dutch heavyweights Yellow Claw and their Barong Family label. But RayRay got her start as a Hip Hop DJ and that was her first love before she discovered the wobble wobble of Dubstep and then the fast, Bass-heavy sound she's known for producing. In recent years, RayRay has begun singing and even rhyming on some of her productions, and delving into fat, clubby Trap sounds. So it makes perfect sense that she would want to go back to her Hip Hop roots.
On '6 Speed' she's teamed up with Ted Park, who's been furiously touring across the US club circuit and dropping a steady stream of hot Trap joints, often with his partner in crime Parlay Pass. Ted [our March '22 cover star] is well known for blowing up in NYC and then signing with Jay Park's H1GHER music in Korea. One of the most respected indie artists in the US Hip Hop scene, having shredded it at SXSW last year, Ted linked with RayRay while she was on tour in the US last summer, and they created the awesomely hooky, rhythmic Trap ditty '6 Speed' and even found time to shoot the video in LA. Like a millennial Bonnie and Clyde, they trade bars and both look like they're having hella fun on a sunny KoreaTown rooftop. RayRay sings and raps on this dark, yet breezy tale. While Ted delivers melodic, spitfire bars like, "Yeah Yeah baby do that dance for me/Million dollar baby got the bands for me/Speeding on a highway/Looking at me sideways/All my glocks are pretty yeah/Like Kendall and Kylie."
Meanwhile, RayRay comes at it straight on, "Wild for the night and we catching a vibe yeah/You can pick me up in that foreign but I'm driving/Chillin in Beijing but we could go fly to an island/Dripping on my body I don't even need a stylist'.
LiFTED is excited to share this gem with you – a collab that feels made in East-West Heaven, bridging oceans and continents, flying through the night in a cosmic 6 Speed with a need for velocity while the bass kicks out the windows. Think of it as an early Lunar New Year present from us.
Check out RayRay and Ted Park's '6 Speed' below.