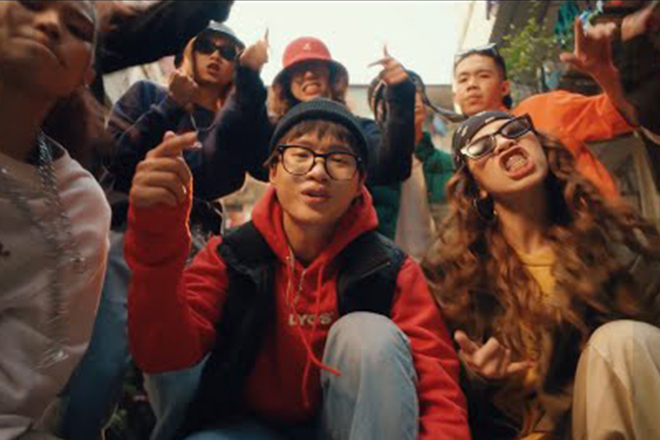 Asia
Low G has everyone walking like they have crab legs in 'Càng Cua'
The Vietnamese MC is joined by the Last Fire Crew for the refreshing video
---
Since the beginning of February, Vietnamese Hip Hop has been on fire. HUSTLANG Robber has been doing his thing 1920's style. Bình Gold and Richie D. Icy have kept it poppin', B Ray is looking for a wife, and Teddie J is going for low-key cool from halfway around the world. Teddie's partner in rhyme, Low G, is now adding to that heat with his latest release, 'Càng Cua,' which roughly translated means crab legs. Since Teddie is not around, Low G is joined by the Last Fire Crew to turn the video out.
Using the formula that 'Ôi Bạn Ơi' perfected, 'Càng Cua' begins with two guys riding wheelies on their bikes into a back alleyway where Low G is being pulled and busting rhymes in a rickshaw. The Last Fire Crew dancers spice things up as they do the crab leg dance while he raps the chorus to start the song.
A lot of the same cuts where Low G raps one bar and everyone looks at the other camera are used. It's still fresh because it's fun and funny, and everyone in the video is so energetic about it. Soon, a lot more of the Last Fire Crew shows up and they are hitting bamboo bowls and dancing around with crab legs. The good thing about this dance, for Low G and his fans, is that it can be done very easily and posted to Tik Tok by anyone and everyone.
Low G has got a couple of videos with millions of views, so the budgets are going up. Instead of just DIY or back-of-the-building videos, 'Càng Cua' has an airport hangar with some fancy cars and planes and even a helicopter. Low G is also sporting some gold fronts while doing his thing.
With the first half of the video looking like low-budget fun with friends and the second half getting fancy with it, 'Càng Cua' could be signaling that Low G is moving on up in the Hip Hop world. The video ends with him taking off in a helicopter, so we may never see him on the ground again.
Check out Low G and the Last Fire Crew in Càng Cua' below.