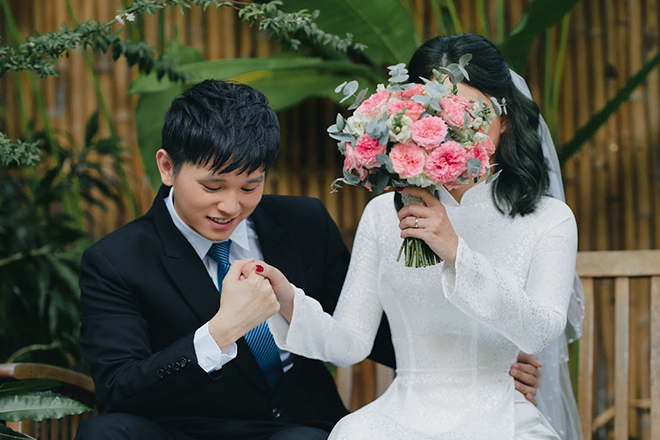 Asia
B Ray & his mother are looking for the right woman in 'CƯỚI EM'
The tricky MC sent out wedding invitations for his new video
---
Recently, B Ray caused quite a stir in the Vietnamese Hip Hop community when he started dropping hints that he was going to get married on Valentine's Day. He started spreading a wedding card on social networks that had pinpointed the date for his marriage to be February 14, Valentine's Day. The one thing that was very weird about the whole thing was that the bride's face in the picture was concealed by a bouquet of flowers.
Valentine's Day arrived and instead of getting married, B Ray dropped a video for 'CƯỚI EM,' which means marry em in English. In the video, B Ray and his 'mother,' who is sporting some fake fur as well as a Marilyn Monroe wig, go to an old-fashioned diner and interview three women who all have different personalities.
The first one up is cute, but she has a taste for designer purses, fancy eyewear, and expensive phones. B Ray and number one just don't click, so she leaves. The second woman looking for B Ray's love and affection walks through the door in an ​​áo dài, a traditional Vietnamese garment thought to cover everything but hide nothing. While the mother is interested, B Ray says goodbye to her, and she cries on her way out.
Superstar Vietnamese DJ Masew walks in the diner, and B Ray instantly knows he wants the girl he is with. She plays some video games and sucks on a lollipop showing no interest in being at this silly interview. She says something and soon the mother puts her arms in a big X, showing her disapproval of this woman. Unfortunately, B Ray is hooked. No matter what his mother or Masew says, he wants this girl's hand in holy matrimony.
B Ray gets extra points for the creativity of tricking the public into thinking he was getting married, as well as executing a pretty good video with an interesting plot for 'CƯỚI EM.'
Check out B Ray's 'CƯỚI EM' below.