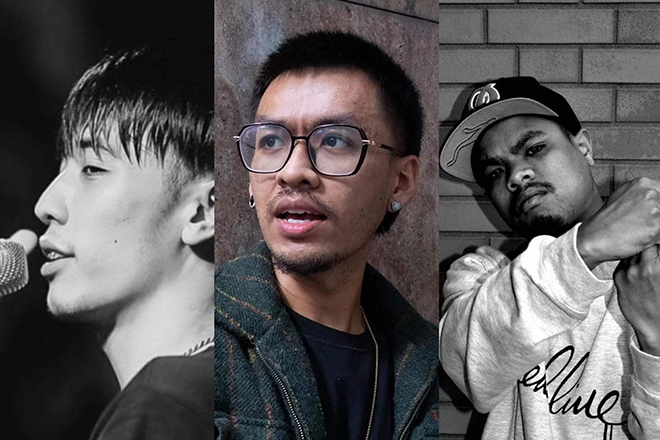 Asia
K6Y, Miles Word & Minh Lai spark a few up on 'KEEP BURNING'
Thailand, Japan & Vietnam merge for an Old School smoke out
---
With our fingers firmly crossed, it seems that the pandemic is slowly winding down, and traveling to various places around the globe is being allowed once again. Borders in Thailand, Japan, and Vietnam are gently opening and people can think about a word that has been off-limits for two-plus years - vacation. To wet this travel whistle, three MCs from those countries have teamed up to give us an Old School workout 'KEEP BURNING.'
M.A.U. Collective, bpm plus asia, and Future Shock is at it again as they are experts at transnational collabs. This time, they've got the winner of The Rapper Show in Thailand, K6Y, Miles World from Fujisawa City, Kanagawa Prefecture Japan, and Minh Lai, one of Vietnam's fiercest MCs. Together, the three rappers drop some braggadocio raps about their skills, their hometowns, and of course, the things they like to smoke.
As soon as the beat starts, 'KEEP BURNING' Boom Baps it up and has a mid-1993 'Slam' by Onyx feel to it. K6Y steps in the place with his Chonburi style and slays the verse. He's one of the hottest rappers on the scene in Thailand and his skills show through as he gives props to some of the OGs, Biggie, Jay-Z, and Nipsey Hussle. Second up is Miles Word and right away he explains how much he loves ganja. Miles' flow is unique in the fact that he's got a choppy whisper on the tracks.
On the final verse is Minh Lai representing Vietnam. He's an MC who has been in the game for years, and has a million YouTube views with his song 'Dua May Len.' He's great at the closing verse and wants people to "Puff puff pass till someone passes out."
'KEEP BURNING' is a treat not only because three MCs from different countries who share a love for the stinky green are on the same track, but also because the track lives and breathes Old School, and in this crazy world, that is sometimes what is needed to have a good vibe.
Check out K6Y, Miles Word, and Minh Lai's 'KEEP BURNING' below.