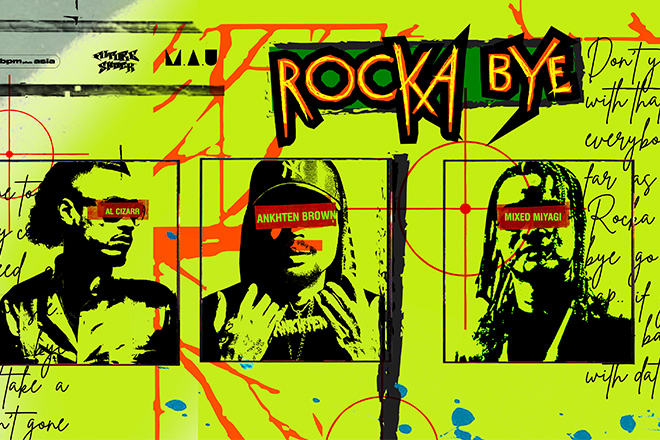 Asia
Al Cizarr, Mixed Miyagi & Ankhten Brown link up for Traphall-infused 'Rocka Bye'
The single is a study in contrasts & styles
---
Hip Hop, Reggae, and Dancehall have always been distant relatives. In Al Cizarr, Mixed Miyagi, and Ankhten Brown's new song, 'Rocka Bye,' all three genres amalgamate into Traphall, which has a little bit of everything for everyone. It's a cross-cultural clash produced by Jamaican native Tu Finga with a laid-back Hip Hop vibe.
On the chorus, the warnings are sent, "Don't come to me/With that energy/Cause everybody bleed/As far as I can see." First up is Al Cizarr with his exquisite story-telling skills from Japan to Jamaica. He's first to rap on 'Rocka Bye,' and rhymes are so smooth that the mood and the vibes are set just right.
After the downtempo spitting of Al Cizarr, Mixed Miyagi's hyped-up lyrical assault lunges onto the track. Born in Vietnam but raised in Florida, Miyagi shows off his vocal dexterity while constantly reppin' his homeland, "Take all my pain and I make songs/Turn up the song when I came on/I'm hot in the booth like it's napalm/real talk and I do it for Vietnam."
Ankhten Brown is the final MC on here and he has his work cut out for him because the two MCs before him were hot flames in different ways. Ankhten steps up to the plate and swings it out of the park by name-checking ceiling fans, the Diddy dance, timberlands, and NBA player Jordan Clarkson, who is half Filipino and half black like he is.
The M.A.U Collective, bpm plus asia project, and Brooklyn Yas are all about bridging the gaps between cultures. Like their previous projects, the Traphall fusion of 'Rocka Bye' stays true to their creative spirit.
Check out Al Cizarr, Mixed Miyagi & Ankhten Brown's 'Rocka Bye' below.