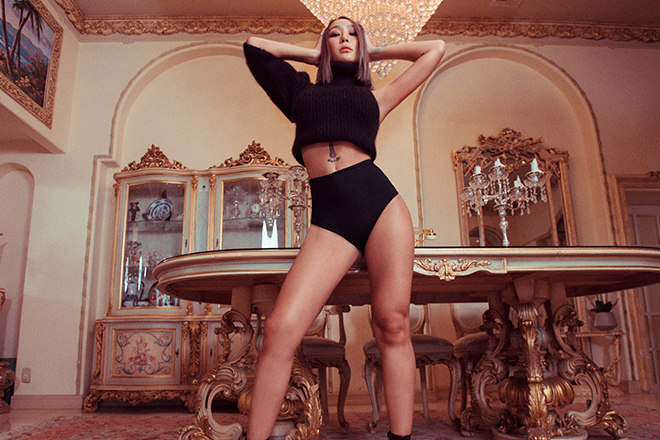 Asia
Former KPop star HYOLYN dances divinely in 'Layin' Low'
This track is aimed squarely at the TikTok generation
---
It's been five years since the KPop group SISTAR dropped their final album, Lonely, and disbanded at the top of their game. They had been KPop superstars for seven years and had nine number one hits before giving it all up, and for the members to go solo.
Since the breakup, HYOLYN formed her own company, Bridʒ [pronounced bridge], and put out two EPs and various singles. Now, she's back with her delayed single, 'Layin' Low,' and it's a dance workout squarely aimed at the TikTok generation.
HYOLYN starts the seductive song in her mansion with a workout outfit to die for, plus she's got high heels on in the whole video just to show how much of a badass she is. She's soon joined by two male dancers and they push, pull, move, and grind in every direction. But 'Layin' Low' is all about the choreography on the hook. It starts off slow with a pre-hook, "1 2 3 4/You I live for/1 2 3 4/Watch me, burning, screaming boy."
It's really when the main hook comes in that things get cooking, "Cause you got me layin' low/You got me layin' low/Tears are running down/Such a bad habit boy/You got me layin' low/You got me layin' low/Crying for you in the glass/Can you see me?" The dance steps are easily learnable, and that's the point. HYOLYN wants people to do her dance on TikTok and she reposts the good ones. Everyone's numbers go up and everyone wins.
R&B singer Jooyoung sings the second verse while HYOLYN does her solo dance. It includes a floor routine that ends up on her shoulders and head. For the third verse, she's joined by a squad of four dancers and they are perfectly in sync for the whole time.
For those that know choreography, it's easy to see how much work HYOLYN and her team put into this video. For those that just want to dance in their living room, nightclub, or on TikTok, 'Layin' Low' is a great song to learn all the moves and show the world.
Check out HYOLYN's 'Layin' Low' below.