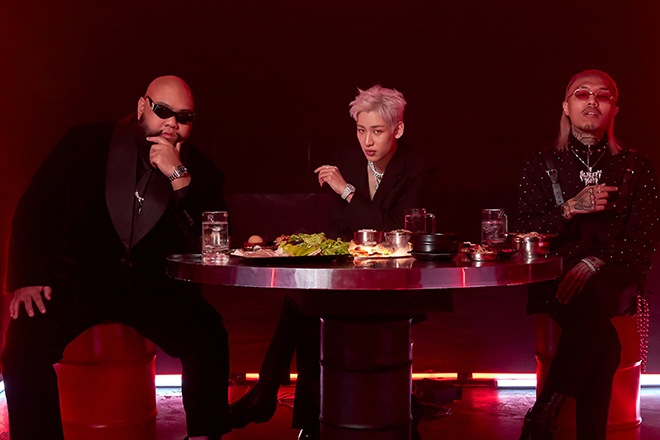 Asia
F.HERO, BamBam & YOUNGOHM go for a joyride on 'Skrrt'
From Bangkok to Seoul and right back
---
Want to go fast and furious with a gang of Thailand's hottest stars? Jump in for a joyride on 'Skrrt' featuring the CEO F.HERO, badass YOUNGOHM, and one of Korea and Thailand's biggest heartthrobs, BamBam. Dropped on February 20, the video already has 1.2 million views and it looks like it's going to lap its competitors easily.
BamBam is Thai and his mother loved Rain and took him to a few concerts when he was young. This got BamBam interested in Korean culture and entertainment, and he even won a Rain cover song contest in 2007. He was also in a dancing crew with another youngster who would go on to be Lisa from Blackpink. At 13, BamBam was chosen to move to Korea to train for Kpop superstardom.
Eventually, BamBam was made a member of Got7 with Jackson Wang and went on to have an illustrious career in Kpop. In January of 2021, all the members of Got7 were released from their contracts and are now doing their solo things. Jackson Wang has been getting bigger by the day with Panthepack, while BamBam is one of the biggest celebrities in terms of sponsorship in Thailand.
For 'Skrrt,' BamBam is joined by two of Thailand's hottest rappers, F.HERO and YOUNGOHM. They both give him a bit more street credibility, and in return, the rappers get in front of more eyeballs. It's a win-win for everyone involved.
'Skrrt' has a blazin Hip Pop beat with some nice flutes laid out by KILO KEYS, and all three artists get busy on it. BamBam passionately sings the hook to start. F.HERO has such a bellicose voice that as soon as you hear one word, everyone knows it's unmistakably him. Over the past year, YOUNGOHM can do no wrong, and he knocks it out of the park here.
Wouldn't it be nice to get an F.HERO/YOUNGHOLM collab album?
Check out 'Skrrt' by F.HERO and BamBam featuring YOUNGOHM below.