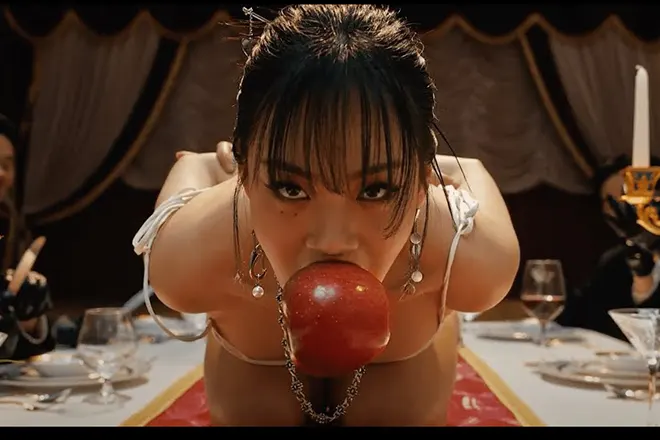 New Releases
BIBI revels in vengeful beheadings on 'Animal Farm'
She takes her birthday celebrations to a whole new level
---
Some people celebrate their birthdays with lavish dinner parties with friends. Others celebrate by hiding at home and trying to pretend that Father Time doesn't exist. BIBI went in a brand new direction on the first single, 'Animal Farm,' off her upcoming 12-track album Noir: The Lowlife Princess - beheading.
On her 24th birthday, BIBI released the blood-soaked video for 'Animal Farm.' In it, she shows up for a fancy party but instead of celebrating, she takes her katana and chops off the guests' heads one by one. It's Tarantinian in its gory viciousness, just the way things should be when her album is based on Lady Vengeance, a Korean movie directed by Park Chan-wook from 2005.
The juxtaposition of the Jazzy R&B of the song and the madness of the video works perfectly as the singer struts around ending lives that need to be ended. It's one versus 100, so no one is sad when BIBI gets the best of everyone. To finalize her dominance, BIBI gets an extended guitar solo. In the rain. With fire. It's a spectacle that needs to be watched to be believed.
This is BIBI's first full-length album since she has been out. She's released two mini-LPs with 2019's The Manual For People Who Want To Love and 2021's Life Is A Bi…. BIBI has also been a hit at any of the Head in the Clouds' concerts she's been at. In December, she'll be on the bill with Jackson Wang and Rich Brian at the Head in the Clouds Jakarta.
Check out BIBI's vengeful 'Animal Farm' below [Only available on the YouTube site due to violence].