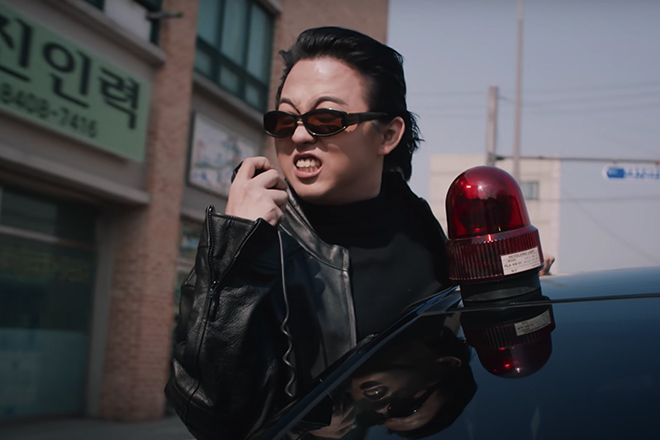 New Releases
Leellamarz, TOIL & The Quiett cause triple trouble in '엉덩이가 큰 그녀'
The buddy cop genre is turned on its Hip Hop head in the ridiculous video
---
Leellamarz and TOIL put out a 12-song album, TOYSTORY3, on May 20 full of feature versus. One of the stand-out tracks, '엉덩이가 큰 그녀,' [which very loosely translates into BBB or Her Big Ass], was making a lot of noise, so the South Korean rappers put out a video for it on May 31. Because the song is so funny, they needed a video to be equally as uproarious, which they totally did.
Leellamarz and TOIL take cop movie cliches and run with them. The video starts off with the two rappers in an interrogation room. It switches to Leellamarz riding out the window of a car that he just stuck a light on, reminiscent of the Beastie Boys 'Sabotage' video. Soon, the cops are in meetings, fighting gangsters without moving a finger, and then waking up from their police dreams with drool running down the side of their mouths.
Soon, all the cops are in a meeting room, and in walks the always-suave Quiett to deliver his outstanding verse. He's a delivery boy with bowls of noodles, but the police in the room are eyeing him up for being on the most-wanted list. The Quiett is soon the chief of police before he wakes up from his dream with a Pokemon eye mask on.
Before you know it, the break room turns into a nightclub with streamers, strobe lights, and lasers. Eventually, the hottest woman in town shows up to grab Leellamarz, and he wakes up again. '엉덩이가 큰 그녀' is a highly-entertaining three minutes and 37 seconds of witty video-making.
Check out Leellamarz, TOIL, and The Quiett's '엉덩이가 큰 그녀' below.