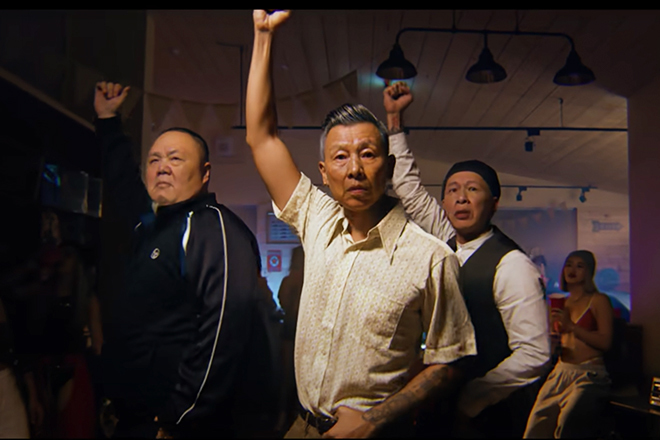 Asia
MJ116 reunites as elderly Hip Hoppers in E.So's '妹妹 Mei Mei'
Age ain't nothing but a number
---
In '妹妹 Mei Mei', the second track released by E.So before his album EARTHBOUND is out on January 14, MJ116 members Muta, Kenzy, and E.So have the same problem that all aging Hip Hoppers have - when is the time to hang it up? Is there ever a time to throw away that Wu-Tang shirt even if it has holes in it? Should you stop busting out Bboy moves just cause your knees crack each time you hit the floor? Should you give up the 1s and 2s because a two-hour DJ set hurts your back?
For E.So and the crew, the answer is that age ain't nothing but a number.
Over a Hip Hop beat with some serious Afrobeats drumming as well as spring and summertime vibes, '妹妹 Mei Mei' finds MJ116 starting off where all elderly people do - on a porch. They see a cute girl moving in next store and want to get her attention. E.So steps up and does his best impression of Michael Jackson to wow their new neighbors. As he's about to say hi, he pushes the new, young girl away and goes for his old girl who has a walker behind them. They embrace and switch back to the younger days when they danced tightly together.
In the second scene, MJ116 gets stepped to by some dancers, so you know the crew is not gonna take that. Kenzy, who gets the supporting actor award for being in a wheelchair and having the shakes, is not hearing it. All three MJ116 members bust out their flyest dance moves which even include linking arms and head poppin'. Of course, things go off the rails again as Muta hits someone with a bottle and Kenzy gets in a few shots. E.So grabs his girl again and runs off into the night to have some fun with shopping carts and also bomb a few walls.
Overall, '妹妹 Mei Mei' is a smash hit for E.So as it's nearing a million views in a few days and is trending number one in music in Taiwan. The video really captures the warmth of being at a boisterous party while also being ridiculous at the same time. That's not an easy feat.
Check out E.So's '妹妹 Mei Mei' below.