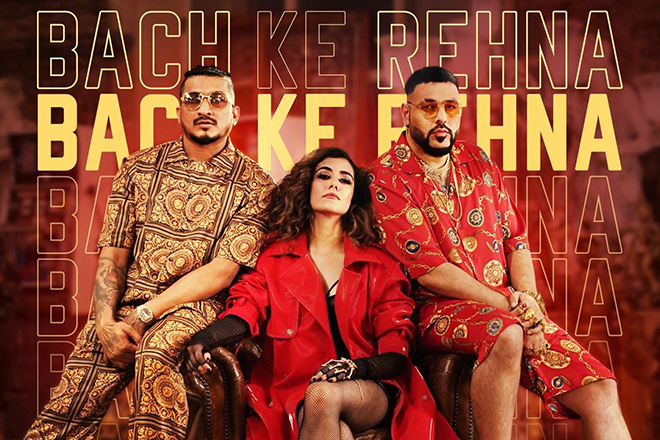 Asia
Divine, Badshah & Jonita have the hustler's mentality on 'Bach Ke Rehna'
Netflix's enlists India's Hip Hop heavyweights to promote Red Notice
---
November has been a huge month for movie lovers in Asia. The long-awaited Disney Plus is finally available for Asia-Pacific regions including Taiwan, Korea, and Hong Kong while Netflix is releasing its most expensive original movie Red Notice. To win the geographical streaming war, Netflix India has gathered a stellar lineup of rappers to promote the action-packed blockbuster.
Badshah and DIVINE, two Desi Hip Hop giants, come together for the robust and energized banger, 'Bach Ke Rehna.' Adapted from the iconic Hindi Song 'Bachke Rehna Re Baba', 'Bach Ke Rehna' takes the form of modern Desi bop with Badshah and DIVINE leading with attitude-fused raps. Singer JONITA chimes in mid-track with her sultry vocal chorus and manifests the funky Hindi sounds. The trio kicks it up a notch at the end, all backed by the addictive beat produced by New Zealand musician Mikey McCleary. Put together, this fiery track complements the fast-paced action of Red Notice perfectly.
This marks the first collaboration between Badshah and DIVINE, who both dedicated their careers to boosting Desi Hip Hop. Fans are overjoyed with the two rappers on the same exhilarating song. Inspired by Red Notice, the music video engages in a thrilling heist between the three musicians and an intense chase for the golden eggs across various locations, featuring India's stunning colors and flair for the dramatic.
Red Notice stars Dwayne Johnson, Gal Gadot, and Ryan Reynolds, and it has had the biggest opening weekend numbers ever for Netflix. This is good news since Netflix spent US$200 million on the movie, making it the most expensive Netflix production in its history.
Check out 'Bach Ke Rehna' by Badshah, DIVINE, JONITA, and Mikey McCleary below.