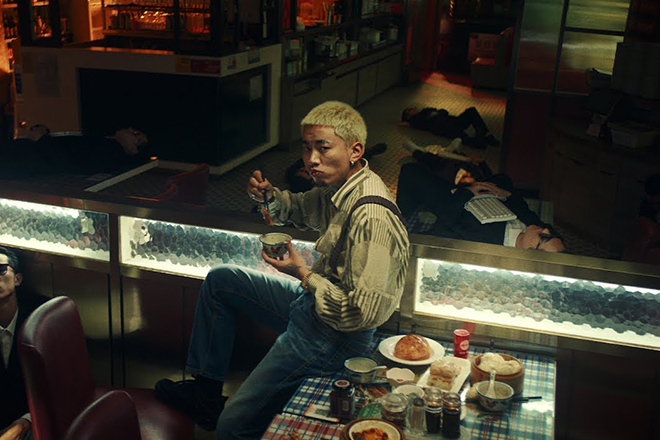 Asia
Masiwei is living the surrealist gangster life on 'SNTS'
The Higher Brothers' rapper falls asleep on the subway & things get weird
---
Masiwei is back just over a year after he put out his last album, Dark Horse, on Valentine's Day. He released 'SNTS' [Streets Need This Shit] on March 16 as the first single off his new album, Humble Swag.
In the video for 'SNTS,' Masiwei steps into a crowded subway and hits play on his Walkman. The music starts for 'SNTS' as he pulls out an offer sheet from a job that he got. He flips it over, and in a tribute to the culture, starts scribbling on the back graffiti style. As he's coming up with the lyrics for 'SNTS' in real time, he leans back and falls asleep on the train.
When Masiwei wakes up, not only is he looking pimp-fresh with a new haircut and threads, but he's also a gangster with a twist. At first, he tosses a rival into a tub and instead of chainsawing his neck like Scarface, he just fills the tub with ball pit balls. Soon, he's playing a high-stakes game that is a combination of dominoes and mahjong with tiles that are stylized with microphones and musical notes. He's got his crew around and they are fishing but on an Old School computer game.
The weirdness just keeps getting weirder as when Masiwei and his crew are eating, they are held up by a rival gang with keyboards as glocks. Soon, he's roller skating, getting massages, and trying to figure out ways to make yo-yos look cool. Instead of being a real gangster, Masiwei and his crew have ended up in a surrealist dream.
Now, some people might say that Masiwei is just using all the props in the back from the studio where they are filming for 'SNTS.' With his swag, this deadly beat, and dark lighting, anything Masiwei does can be made to look cool.
Check out Masiwei's 'SNTS' below.