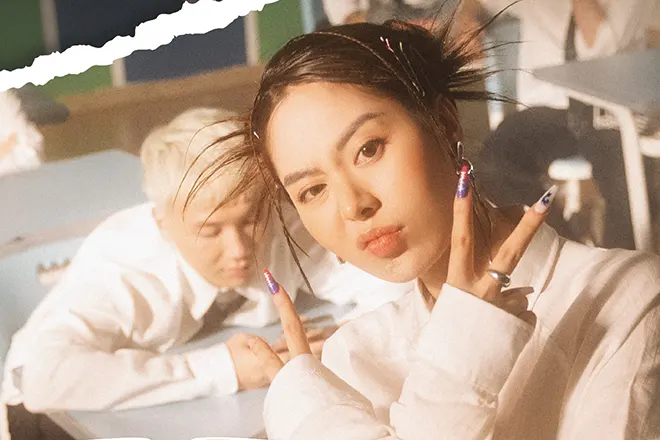 New Releases
Mai Âm Nhạc's 'Baby Can You See Me?' is a birthday gift to B-Wine
The song features Freaky as a body double
---
25-year-old Vietnamese rapper and singer Mai Âm Nhạc first blew up on TikTok and is best known for her hilarious Q&A posts. When she announced that she was going to compete in the first Rap Viet back in 2020, people thought she was joking at first. But she became one of the two female MCs who have won over the difficult judges on Rap Viet and proved that even though she was eliminated in season two on episode seven, she lit a fire inside herself and continues to shine brightly.
Her stage name Mai Âm Nhạc actually means Mai Music. She once said that she has two personalities, one of them is unbelievably serious, especially making music. The other is a clown that likes to get loose, which is why she's so well-loved by the young TikTok generation.
Back in April of 2022, she published a set of cool street photoshoots with B-Wine, who was also a contestant who made it to the finals of Rap Viet Season 2. They were not shy with the PDA, with Mai constantly posting stories calling B-Wine 'Bi-Bi' and encouraging him through the finals. Even though B-Wine didn't win the championship, people teased that he already got the big prize from the show.
Mai's new visual for the R&B groover 'Baby Có Thấy Em Không' [Bay Can You See Me?] is a cheeky portrayal of Mai hitting on B-Wine, dancing, and singing in different outfits to seduce him. The one problem is that B-Wine isn't in the video. Mai keeps it on the humorous tip, acting like a High School bully to get attention from her crush. Fans went nuts watching the couple showing off their love on screen, but it took some imagination because instead of B-Wine, it's 23-year-old Freaky, who was also on Rap Viet.
Freaky is well known for his smooth flow and clever rhyme skills. He loves wordplay, and his verse brings a lot of freshness to the track while blending well with Mai's parts.
The song owes more to R&B than anything else, and the visual contains elements more often found in KPop - synchronized dancers, school unis - and Mai is singing throughout. But it has a nice beat and is well shot. True to form, it ends sweetly, showing the surprise birthday cake Mai prepared for B-Wine, and celebrating with the production crew after shooting the MV. Fans must be wondering if this is all a setup for a much-anticipated collab between the real-life couple that will be coming soon
Check out 'Baby Có Thấy Em Không' [Bay Can You See Me?] by Mai Âm Nhạc featuring Freaky below.