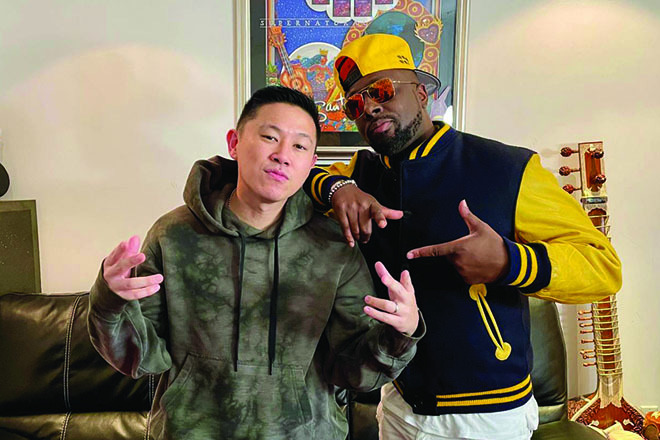 Global
Love is the only vaccine for hate
MC Jin & Wyclef team up again after nearly 20 years for 'Stop the Hatred'
---
MC Jin got up in front of a crowd of thousands at the Stop the Hate rally in New York City on March 21, which was just a few days after a mass shooting of Asian people happened in Atlanta. He rapped a song, gave a speech, and basked in the good vibes during dark times. But for him, the most meaningful part of the day was when he asked his eight-year-old son, Chance, how he was feeling right now. Chance took the mic from his dad and screamed "Stop the hatred!" Right then, Jin knew those words would become his latest song 'Stop the Hatred.'
With the rise in random attacks on Asians in America and around the world recently, a slew of artists have made songs hoping to help stop the hate. There has been a set of people who are trying to put two minorities, African-Americans and Asian-Americans, against each other, but Jin knew he could call on an old friend for a new song. "To be able to reconnect with the iconic Wyclef Jean for this song is not only special for me on a personal level, but also symbolizes the importance of solidarity amongst all communities during these times," said MC Jin on his YouTube channel for 'Stop the Hatred.'
Jin was the first Asian-American solo rapper to be signed to a major label deal in the US and hooked up with Wyclef in 2003 for the hit 'Learn Chinese.' Over the years, Jin has lived in Asia, acted, done stand-up comedy, and of course, made a lot of Hip Hop music. But 'Stop the Hatred' is special because it is showing solidarity between the AAPI and Black communities.
In the video, multigenerational AAPI families are shown on the streets of New York City juxtaposed with Black protestors marching against police brutality showing that racism is really the pandemic we are living through. In a press release about the video, Wyclef said, "Racism and hate against underrepresented communities can only be fought with unity."
MC Jin and Wyclef's 'Stop the Hatred' can be watched below.