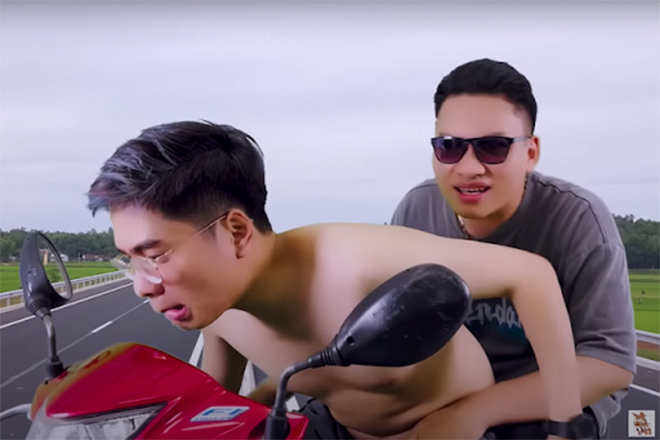 New Releases
Homemade Rappers Rap Nhà Làm take a joyride through Vietnam
Scenery & beats are featured on the hilarious 'Chơi Đeeee'
---
Rap Nhà Làm [Homemade Rappers] was started just for fun by a group of brothers in their 20s. Ska, LowG, Teddie J, ResQ, and Chí were originally Hip Hop dancers and artists based in HàNội in 2017 when they formed.
"We did everything very simple at the beginning like a bedroom studio with a mic and a laptop," ResQ explained. It started for fun and ended with budding fame, as their sense of humor and youthful creativity has brought them a lot of attention through YouTube.
Since their debut, the crew's following has skyrocketed to almost 350K subscribers today. All the videos on their channel have many thousands and even millions of views. "We were very surprised when people love what we've made, and feel blessed to be supported by so many people from around the world," said ResQ.
The most-watched video with 20 million views, is 'An Thần' by LowG, who was the first to put up Rap songs on the channel. The follow-up, 'Chán Gái', also hit 20 million. But 'An Thần' struck a chord, with LowG saying he is Bored of Girls - with a DIY style MV that would put a smile on anyone's face as he shows all his exaggerated emotions.

Recently, the group released a new single with a hilariously bad green-screened video called 'Chơi Đeeee', featuring a topless ResQ 'driving' a motorcycle with The Saint riding shotgun. The interesting part is that the beat is actually a remix of U.S. rapper Young Gravy's 'Yup!', also a comedic joint. ResQ is a big Gravy fan and was inspired by his song and his whole vibe enough to do his own version.
ResQ and the Rap Nha Lam crew are definitely having fun in the video, as 'Chơi Đeeee' means 'Let's Play' in Vietnamese. As you can tell from the visual, the song talks about the riders on the road in Vietnam, with a peek into their culture and lifestyle in a funny way. Motorbikes are so popular in Vietnam that bikes up to 50 cc can be ridden without a license, and a whopping 79 percent of Vietnamese use motorbikes for commuting, while the global average is just 10 percent. No wonder this track, and this group resonates with the Vietnamese people so much.
Their fans are not only in Vietnam. Through the help of YouTube, Rap Nhà Làm have been reaching the global Viet diaspora and other international fans through their funny, and often funky Rap tracks and videos.
Check out 'Chơi Đeeee' by ResQ featuring The Saint below.