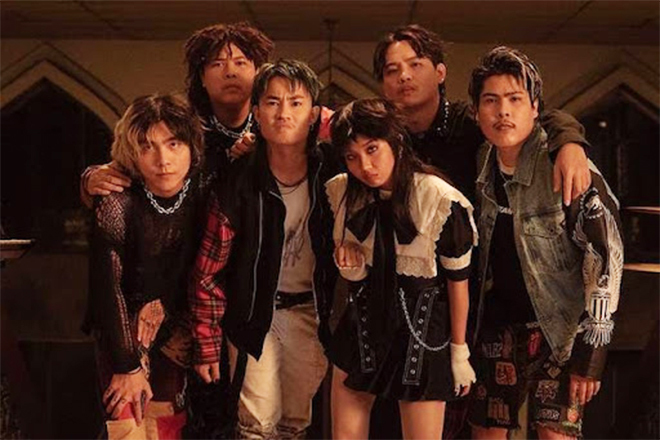 Asia
Rap & Rock collide in Bomb At Track & MILLI's collab 'เด็กเอ๋ยเด็กดี'
All for a good cause for Thailand's National Children Day
---
As anyone raised by Asian parents knows, you don't talk back, even at disciplinary punishment that might be considered abusive in today's world. Sadly, some mothers and fathers adopt an over-the-top parenting style that can cause lifelong trauma to their children. To raise awareness about the issue, rapper MILLI teamed up with heavy metal band Bomb At Track for Thailand's National Children Day with a compelling Rap Metal track, 'เด็กเอ๋ยเด็กดี'.
'เด็กเอ๋ยเด็กดี' [loosely translated as 'good boys'] is Bomb At Track's attempt to depict the shame, fear, and guilt that abused children suffer - through their hard-hitting metal sound. The goal is to call out the harm abusive parents can cause while ironically trying to raise 'good kids'.
The track starts with a soft and folksy nursery rhyme sung by kids that recalls a mother's strict instructions. Then, the heavy beat kicks in and Bomb At Track's lead vocalist Tae kicks off a personal and fiery speed Rap verse about how tough love can harm children. 'All those tauntings make me wanna cry/Hurting, hating in a crowded society/Forcing morals and ethics until stressed/kill the dreams of countless kids.' As hard as his rhyme is, it's emotional and you can tell it's coming from a place of compassion.
When MILLI joins in, she ramps up the feels by telling parents about the harm done - by imitating one of them. As a millennial, MILLI points out the absurdity and hypocrisy that often exists in the super strict Asian family hierarchy.

The music video for 'เด็กเอ๋ยเด็กดี' is both compelling and cinematic, composed of dark imagery and strong editing. The four members of Bomb The Track sit around the table at a family dinner with flashbacks of a schoolboy being scolded by his mother. The boy is later dragged on the floor, hair-pulled, screamed at, and locked in a wardrobe. During MILLI's verse she's blindfolded, constrained on a chair, and gets her long hair chopped off by the angry mother. The grim and violent visuals may be over-the-top, but they effectively illustrate the fear children with strict parents face.
Rap Metal had a big impact in the West in the late '90s and 2000s. While the Thai Hip Hop scene is getting more diverse, it is still quite a niche for the general public. With the runaway popularity of MILLI, it's a good thing that she's expanding her sound and reach for the greater good.
Check out 'เด็กเอ๋ยเด็กดี' by BOMB AT TRACK x MILLI below.