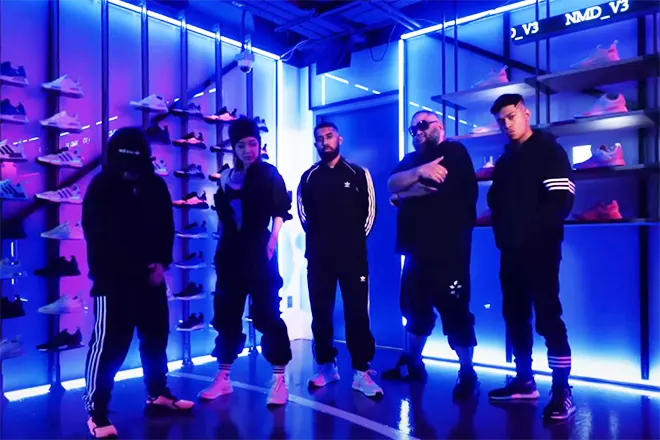 New Releases
Sheikh Haikel, J.M3, Hairi Eyes, Azrael & PRAV come together for a cypher with Adidas
It features a beat produced by PRAV
---
Adidas put out 'The adidas Originals NMD_V3 Cypher [Singapore]' on September 22 featuring some of Singapore's best. The German giants released their brand new line of sneakers, the NMD_V3, and recruited rappers from Singapore to flex with them, while also presenting their art via a cypher.
Cyphers are a great way to showcase a rapper's lyrical prowess, and a way to have fun with it overall. And what better way to kick off one, if not with the OG of Singapore's Hip Hop scene, Sheikh Hakiel? The OG was given the opening honors, before passing it over to J.M3 who raps in Mandarin and English. Then, the emerging R&B singer and producer Hairi Eyes switches up the tempo with his suave singing take. Azrael, the seasoned rapper from The.XS Collective [who have done cyphers in the past] caps it off with a strong showing, while also bigging up everyone, "Respect to the ones who came before me, shout out to the ones who come after me." The beat featured on the cypher was produced by PRAV, who is the co-founder of the monthly Hip Hop parties, WAV(Y) and also a frequent collaborator with Adidas.
Over in Hong Kong, TXMIYAMA, JB, Novel Fergus & MU also participated in a cypher for Adidas, and it's an absolute heater. It's clear to see, a whole lot of heat coming out of Adidas' locker.
Check out the cypher with Sheikh Haikel, J.M3, Hairi Eyes, and Azrael below.