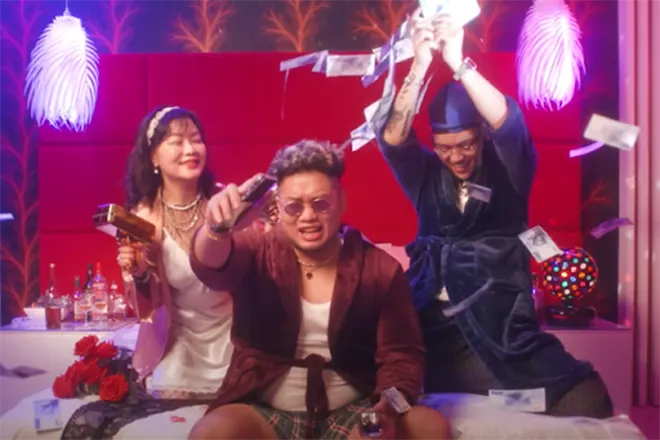 New Releases
6yi7 goes R&B because 'Auntie, I Don't Wanna Hip Hop Anymore'
He & BG8LOCC are looking for sugar mommies who love rappers
---
Ever since 2013, 6yi7 has been releasing tracks through StreetVoice, Taiwan's site for underground music. He took a break for a while until 2020 when fans welcomed his return and collaboration with Kumachan to launch a podcast 三不五時就七步成詩 which has the English title of '3 No 5 Time 7 Step Poets'. 6yi7 released his first mixtape Noble Barbarian in 2021, with diverse styles of LoFi, RB&, Trap, New Wave, Soul, and Pop, as well as his politically incorrect humor, which caused him to receive a lot of attention and got people talking. At the end of 2021, he dropped the second mixtape 'Noble Barbarian 2' featuring Gambler, BG8LOCC, Suhf, PiNkChAiN, and more delivering the message, "Music is not as boring as you thought".
Recently, he released a video for the very amusing track 阿姨我不想再嘻哈了 aka 'Auntie, I Don't Wanna Hip Hop Anymore,' which tells the story of his musical fantasy. "I've been singing since 2006/That's the age of ballads/Performed not even 100 shows/No girls, nothing new/Nobody cares/We said how Hip Hop we are, but nobody actually gives an f." That's why he's singing R&B now.
However, BG8LOCC is still rapping, "Nobody understands my songs written but I still goin' on/Can't find who is more broke than me but I keep holdin' on." After paying all his rent and having a bit of a daydream about his landlord, 6yi7 is Googling 'Taipei rich aunty' to find a sugar mommy website with older women who are seeking to pamper big boys who like to rap, among other amusing requirements. The video then has a very happy ending with the two rappers hanging out with the rich aunty in a love hotel while she whips 6yi7 while holding a banana and eggplant and makes it rain.
6yi7 is kidding about not wanting to do Hip Hop anymore, as he continues to produce more and more Hip Hop tracks in different styles, surprising and entertaining everyone with his talent.
Check out 6yi7's 'Auntie, I Don't Wanna Hip Hop Anymore' featuring BG8LOCC below.