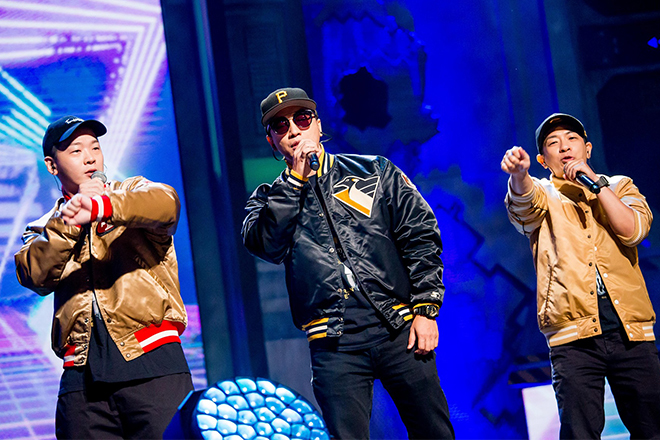 Asia
參劈 TriPoets aim to bring the fun back to the Taiwan Hip Hop scene
'Hungry for Beats and Rhymes' is a tribute to Hip Hop's pioneers
---
When MTV's The Rappers started planning for the widely popular show, they talked with a lot of the OGs on the Taiwan Hip Hop scene looking for insight and direction. One of the MCs they interviewed was Ill Mo, one of the members of the 參劈 TriPoets. In his OG video, he drops knowledge about Hip Hop being unpopular in Taiwan for many years and not mainstream at all.
MTV's The Rappers had Ill Mo's group the 參劈 TriPoets perform this weekend and they dropped a new music video, 'Hungry for Beats and Rhymes,' on Monday to catch that wave.
The 參劈 TriPoets consist of DJ Sugar, Teacher Lin, and Ill Mo, who all met through an online Hip Hop forum and later became participants in a Hip Hop club at National Taiwan University. They released one Hip Hop album in 2008 and are finishing up their long overdue follow-up soon. Ill Mo said, "We are actually finalizing our second album that is set to be released by the end of this year. We applied for government funding and received it, which gave us a chance to do music again."
When questioned about 參劈 TriPoets performance on MTV's The Rappers, Ill Mo is highly complimentary. "Hip Hop in Taiwan in 2021 is versatile, so you get to see various sub-genres of Hip Hop emerging. It was only right that we took the opportunity to reintroduce ourselves to the younger Hip Hop audience."
In the video for 'Hungry for Beats and Rhymes,' 參劈 TriPoets head to Uncle Q's Vegan restaurant and comedy ensues. There's a fight between chopsticks and a spoon, Trout Fresh gets salad spit on him, and an Old-School dance routine breaks out. According to Ill Mo, the humor is there for a purpose. "We hope to provide the Old-School flavor with the single, and it's a tribute to Hip Hop pioneers like LL Cool J, Run-DMC, and so on. To shoot a music video for 'Hungry for Beats and Rhymes' at the restaurant is self-explanatory. We are aiming to bring the fun back."
Check out 參劈 TriPoets' 'Hungry for Beats and Rhymes' below.