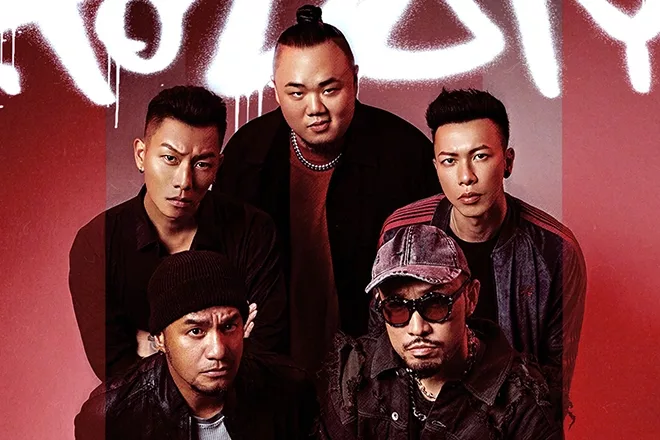 Asia
兄弟本色 G.U.T.S brings Rap Rock back with 'Return to Duty'
The Taiwanese supergroup includes MC HotDog, A-Yue & MJ116
---
For a very long time, Rock & Roll was king in Taiwan. It wasn't until A-Yue, a well-known singer, tried to get radio stations and nightclubs to play songs from his good friend MC Hot Dog, that Hip Hop bubbled out of the underground. Their playful single, '我愛台妹' [I Love Taiwanese Girls]' became a song that you couldn't NOT hear on a night out on the town for quite some time in Taiwan and all over China. HotDog eventually helped MJ116 work their way into the music industry.
In 2015, MC HotDog, A-Yue, and MJ116 formed the supergroup 兄弟本色 G.U.T.S, and for two years, they toured the world together. In 2017, they abruptly disbanded with a final show in Taipei and all went to focus on their solo careers. Since then, all the artists have remained friends, collab-ed on each other's works, done lots of shows together, and E-So, Muta, and Kenzy from MJ116 have blown up as solo artists.

On October 27, 兄弟本色 G.U.T.S appeared out of thin air and dropped 'Return to Duty,' a Rap Rock single for the video game Modern Warfare III. With a lot of the 90's and 2000's styles back in fashion, it was only a matter of time before the Limp Bizkit/Korn revival came. But what 兄弟本色 G.U.T.S have done is walk the fine line of having some dope rapping for the Hip Hop heads mixed with the hard riffs for the Rock crowd. There's even some scratching at the end of the song by DJ Afro to satisfy the turntablist set.
The video shows the old gang getting back together like the good old days. Now it's time for a new plan of attack. Does this mean we'll get a 兄弟本色 G.U.T.S album, worldwide arena tour, and more videos? LiFTED is the spot for all the new information that comes out.
Check out 兄弟本色 G.U.T.S' 'Return to Duty' below.