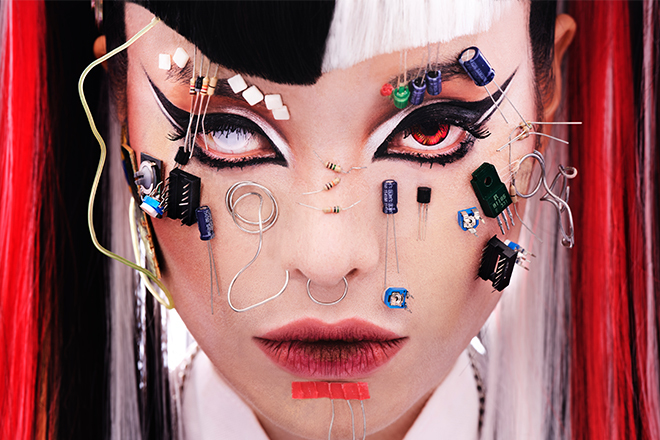 Asia
The apocalypse Pyra warned us about is here
In fkn bad pt. 2, Pyra savors her pain & lets darkness guide her way
---
After spending a lot of the past two years during lockdown at home, Pyra excitedly got on a flight to play her first festival in Shillong, India this weekend. As she arrived at the airport in Delhi, her enthusiasm withered as the skies were brown and chunky with the Air Pollution Index hitting above 500, which is literally off the charts, in some parts of India's capital. She says in a quick interview from the airport, "I told you we are living in a dystopia now. At least it looks beautiful, tho."
Pyra's not wrong.
We keep thinking we have 10 or 15 years to fix things, but it's too late. The apocalypse is here and now we have to deal with the messes we've created. Part of Pyra's way of dealing with things is by making a soundtrack for the carnage at the end of the world. Her latest EP, fkn bad pt. 2 on Warner Music, shows her growth as an artist as she doesn't run away from the pain. Instead, she lets the suffering and the darkness she feels guide her to making what she wants.
It's different from fkn bad EP pt.1 because "This EP shows the vulnerable and the darker side of me unlike the previous one," Pyra says. "Every strong person you know was once weak. EP 1 is the feisty, strong alter ego while EP 2 is the opposite. There's black and white to everything and everyone."
The tracks are thoughtful and introspective. 'so cold' is a tale of how intense unhappiness can happen. 'saddest song in the world' touches on depression and the reality of life when the mask of social media or public persona is taken away. Bohan Phoenix makes a surprise appearance in 'doing coachella' and who couldn't see these two getting slots in 2022 and beyond. fkn bad pt. 2 is a different Pyra. The screams and yelling are all but gone. This Pyra is the one that is growing into the artist that she will eventually be.
The apocalypse may be here, but at least it sounds good, tho.
Watch 'so cold' and listen to fkn bad pt. 2 below.