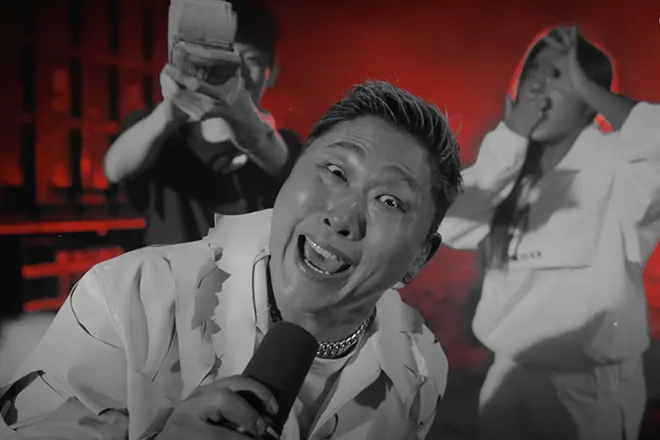 New Releases
Swings, Nochang, Black Nut & DAMINI don't mince their rhymes on 'No One Likes Us'
Some songs that instantly hit you in the face like a baseball bat swung from Shohei Ohtani
---
When creatives get together, sometimes all they need is a good beat, some beat-up trucks in the back of a junkyard, a smoke machine or two, and some dope-ass raps to impress the hell out of people.
At two seconds in over some head nodding chanting on 'No One Likes Us' on Dingo FreeStyle, Nochang has already upped the ante a beat that wants to be injected into the veins and the chorus that starts with "F your friends/F your crew/F your fans/F you, too," and that's before he's smiling while saying these things about close family members.
This is only about 20 seconds into the video. It's right at that time when you think that this song is smashing me in my forehead with a baseball bat swung by Shohei Ohtani…and then the verses start.
Black Nut grabs the mic and goes ballistic. He's counting the cash he's got then he tosses it all over for good measure. Is he alluding to a charge that he never paid up on? Who knows? What we do know is that DAMINI is up next and after helping on the chorus, she shows why she made it onto Show Me the Money season 11 with technical raps and a lot of swag.
After a minute and some change of hardcore rapping, DAMINI hands the mic to Swings, and it's over. He bodies the track while chilling until he starts being animated, and says to close, "Are you out of your mind you kimchi-picking, b." The first song of the year candidate for 2023.

The original video for 'No One Likes Us' has 1.5 million views in a week showing that people are actually loving the song and the MCs. With the live version just released, it's guaranteed that 'No One Likes Us' will be causing fights, car wrecks, and window shattering all summer long.
Check outSwings, Nochang, Black Nut & DAMINI on Dingo FreeStyle's 'No One Likes Us.'