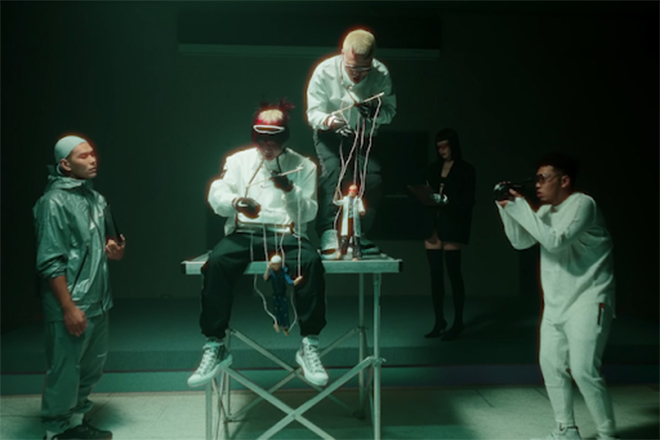 Asia
'Welcome' to the Multiverse
Drill is making its mark in Asian rap and thanks to Macdella & Eyeballray, it bangs
---
Reality rap shows like MTV's The Rappers in Taiwan have been great platforms for budding MCs to earn a chance to expose their talent to wide audiences. Taichung's indie label Multiverse stole a spotlight with an original track 'Welcome' during their run in MTV's The Rappers. Since their striking performance on the small screen, fans have been anticipating a formal release. After months of mastering and recording, it is finally here.
Multiverse's Macdella and Eyeballray have been the walking poster boys of the rather young Taichung label, even back when they were fairly unknown outside of the Taichung scene. Macdella has been serving as the key rapper and the mastermind behind the operation while Eyeballray's unique tone in rap stands out among his fellow rappers. 'Welcome' is their first big release in 2022, and the three-minute dark and swingy Trap jam perfectly expresses their styles.
'Welcome' leads with a synth-heavy beat and quickly establishes its unique Drill sound that works wonders in Mandarin. Macdella leads the track as he welcomes listeners to the Multi-Pharmacy, a fictional place where he and Eyeballray can sell you the secret to living the good life even though it may result in 'red eyes all day.' Just as we thought they are referring to good old marijuana, the duo reveals the substance they sell is their music, which is in exchange for their blood and tears. It's not just the clever set-up that makes them pop. In their lyrics, the duo gets genuine as they express their undying love for music and the freedom to express themselves.
In the music video, we are first introduced to the physician Macdella, copping a white trench coat and blonde shaved head with two black devil tips on top, as well as two shark fins on the back of his head. Eyeballray is later wheeled into the scene with his arms wrapped up like a mental patient. Soon, the duo unites and raps in a gloomy, dark lab. In a later sequence, the two rappers puppeteered two dolls of themselves, which leaves viewers questioning who is controlling who.
Drill is making its mark in Asian rap and thanks to Multiverse, Macdella, and Eyeballray, it bangs.
Check out Multiverse's 'Welcome' below.