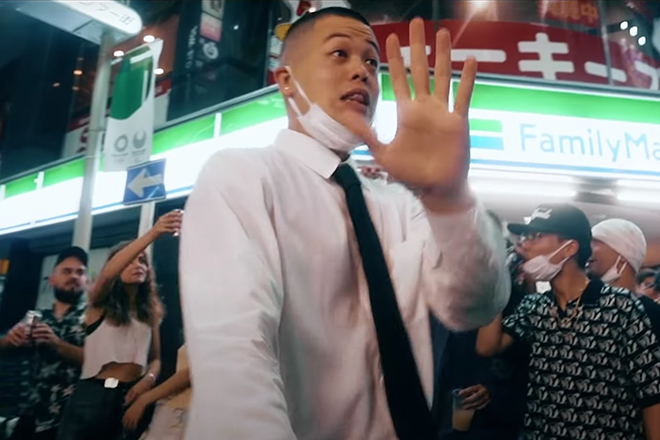 Asia
Miyachi knows how to get the pre-party started
The Japanese-American rapper flexes his bilingual flow on new single 'CHU-HI'
---
Japanese-American rapper Miyachi has just dropped a hot new single 'CHU-HI.' Getting stoopid in front of the Family Mart is the way you roll on a night out in Shibuya, and your guide Miyachi is not just rapping about the iconic Shochu drink Chu-Hi, but more reflecting on the nightlife culture and those endless blurry nights in Tokyo.
The hooky Trap beat by YUNGXANSEI & BL$$D is a minor-tone earworm and a perfect musical bed for Miyachi's free flowing bilingual bars. His rhyme warns that Chu-Hi goes down easy, but packs a punch and will get you lit up. The fruity, carbonated drink may seem lightweight but it is actually nine percent alcohol. That's how you start your night right if you're chilling with Miyachi. He rhymes, "Absolutely never buy wine/if it's Strong Zero or Suntory then I'm fine."
In the video, Miyachi starts off looking like a salaryman getting nice with his Chu-Hi after work. "Wear a suit and tie but I'm a rebel," he raps with his usual quirky and goofy style, adding a fun vibe to the video. But don't sleep on his skills, Miyachi is a real one who honed his craft battling at open mic nights in New York. He keeps it fun, though, with a crowd of party people chilling outside the Family Mart store sipping Chu-Hi. After a few cold ones, he reaches out to strangers with a mic and asks them to rap a line from the chorus, "Chu-Hi sippin and it feels so good." Eventually, the hazy scenes are reminiscent of wasted nights out in Tokyo.
Miyachi first dropped his bilingual flows on the single 'Wakarimasen' in 2018, incorporating East-West elements while riffing on Asian-American stereotypes over a quirky Trap beat. Since then he's moved his base from NYC to Tokyo, toured internationally, and been featured on b2 Music's VIBE Presents: Urban Asia Vol 2.
Check out his latest track 'CHU-HI' below.