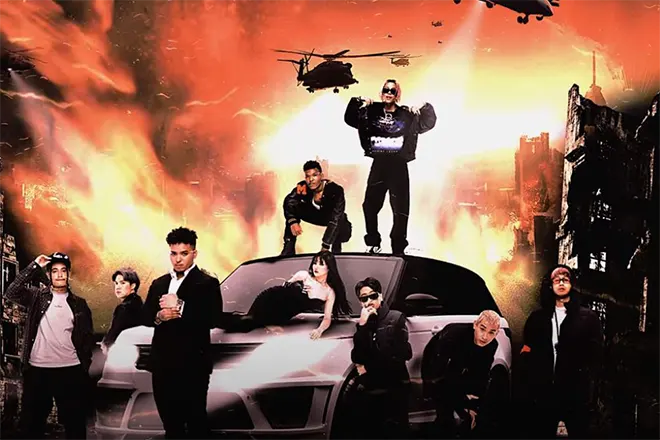 New Releases
Thailand's Hype Train drops a cypher with entire roster
Featuring verses from SPRITE, GUYGEEGEE, ICEACE, DON KIDS, SEEDAA THEVILLAIN, OG Bobby & ESKIIMO
---
The Thai Hip Hop label Hype Train has been at the forefront of all things related to the genre since its inception three years ago. The rapper Nino Chankwang is the label's CEO and the brains behind all the output that's come out from the Hype Train channel. He's joined alongside fellow Thai rapper, Ben Bizzy, who is the general manager of the label. Who knows best about the ins and outs of the game if not the players themselves?
They've had a brilliant 2022, with multiple stellar releases from their roster such as OG Bobby, SPRITE, GUYGEEGEE, and so much more. To kick off their 2023 with the ultimate bang, Hype Train released a cypher featuring every artist on their current roster. The minimal beat on the track was produced by NINO himself – it's driving and infectious, but leaves plenty of room for each MC's lyrical prowess and flows to shine.
SPRITE, the youngest MC of the bunch, kicks off the cypher in his native tongue and English – which is a theme continued on by the rest of the bunch. GUYGEEGEE takes the baton right after, before passing it onto ICEACE. DON KIDS, who shines bright on the cypher drops nods to Wu-Tang and fellow Thai rapper FIIXD, which is then followed by a verse from the only female MC on the label, SEEDAA THEVILLAIN. Nearing the end, OG Bobby delivers a killer 16 in English and ESKIIMO wraps it all up with a final verse.
The cypher was uploaded on the label's YouTube channel on January 12, and it will arrive on all digital streaming platforms on January 19.
Check out the official visualizer for HYPE TRAIN's cypher below.