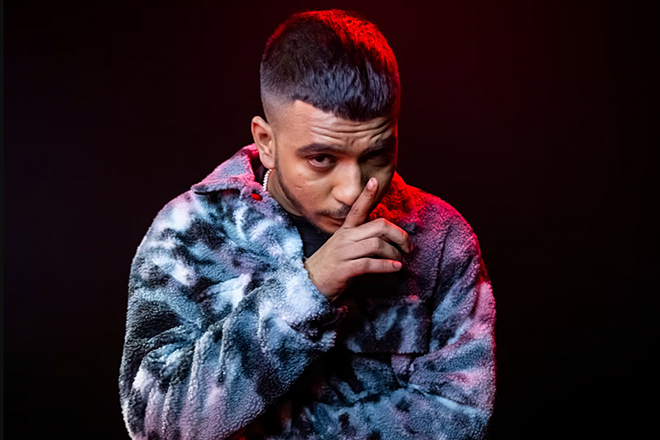 Asia
MC Altaf runs a lyrical marathon with 'AWW!' on India's first Red Bull 64 Bars
The hot beat was produced by Karan Kanchan
---
When an MC writes a song or hops on a feature with another rapper, they usually do eight or 16 bars at most for a verse. Some MCs go wild and do 32 bars, but it's the rare breed of rapper that has the breath control, style, substance, and delivery to do 64 bars and keep people interested. MC Altaf steps up to the challenge and flaunts his lyrical dexterity in 'AWW!' in the first Red Bull 64 Bars [out of 10 planned] from India over a hot beat made by Karan Kanchan.
MC Altaf agreed to get on board with the #redbull64bars and wanted to keep a Bombay vibe with it. Once he heard Karan was in as the producer, he got even more hype because they had worked together before. "He knows what I want from a beat, and I know what he likes in terms of a flow on his beats. Working together, we built that," Altaf said. "I feel blessed that Karan is on this project because for Red Bull 64 Bars, I don't think anyone would have been able to make a beat for me better than Karan Kanchan." Instead of sending tracks back and forth, Altaf and Karan got a hotel room, and they took their time to make the song mean something.
As inspiration, Altaf listened to a lot of freestyles from rappers on Funk Flex, Hot97, and the LA Leakers. He also listened to his favorite rapper, 2 Chainz, on his new album, Million Dollars worth of Game. "Then there was 2 Chainz's new album – he's my favorite in Trap music. I love Old School, but there's a side of me that loves hardcore trap music as well. When I saw that a legend like 2 Chainz was working with a new artist like 42 Dugg and how 42 Dugg was rapping with insane attitude. When I heard the song ['Million Dollars Worth of Game'], I got inspired for my song. I sent it to Karan and told him how they've probably sampled an Indian sound over a Trap beat that goes hardcore."
The result is 'AWW!', a song made with the ladies in mind because Altaf always hears them say, "Aww!" That's a big challenge because it's well-known that the ladies love songs that are easy to sing along to or have hooks by R&B artists. Sixty-four bars might be a lot for ladies or people in general to digest in one listen, but after hearing 'AWW!' a few times, the deeper meanings get more impressive.
Check out MC Altaf's 'AWW!' below.