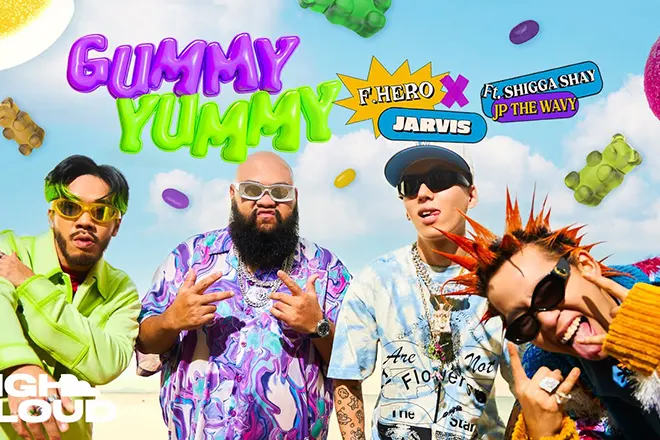 New Releases
F.Hero, Jarvis, ShiGGA Shay & JP The Wavy turn up the heat on 'GUMMY YUMMY'
The first summer banger alert of the season has been issued
---
After a long winter, there's a certain type of song that goes really well with the summer heat.
Once April and May arrive, artists start to release tracks with a pool or beach vibe because everyone wants to have that summer slammer. 'GUMMY YUMMY,' by Asian Hip Hop heavyweights F.Hero, Jarvis, ShiGGA Shay, and JP The Wavy is the first serious contender for song of the summer.
The reason why the song works so well is two-fold. First, the beat has an infectious horn that automatically makes anyone snap their neck and shuffle their feet upon hearing it. The second reason is the contrast in the voices of each rapper. Jarvis starts and he has a kind of high-pitched tone that goes perfectly with his spiky hair. F.Hero gets on the mic, and he's got a deep voice that makes him sound like the veteran MC that he is.
Third up is ShiGGa Shay, who has been on fire recently with his video from COLORSXSTUDIO. His flow in English breaks up the song, and sounds really dope as he craves the competition the other MCs on the track give him. Finally, JP The Wavy was made for this beat. It's a bit of a throwback to the mid-2000s sound that JP floats on all the time. All the MCs sound equally great on the track, yet all are very distinct.
The video is a fun ride through candy-coated lenses. There are some hot girls serving waffles as well as some BMXers doing stunts while the rappers rap. You're going to need to put the air conditioning on as the first contestant for the song of the summer is hot hot hot.
Check out 'GUMMY YUMMY' by F.Hero, Jarvis, ShiGGA Shay & JP The Wavy below.