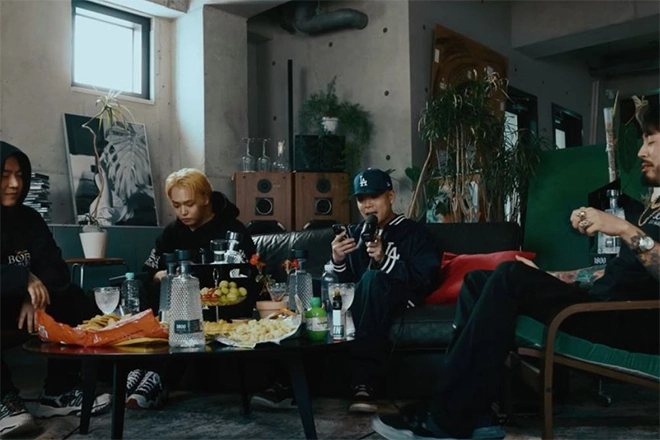 Asia
South Korea's HIPHOPLE drops 'Sloppy Freestyle' with Gwangil Jo, Skull, Sikboy & Koonta
4 MCs on a couch with drinks in hand & a lot of spitting going on
---
Cyphers are deeply rooted in Hip Hop culture. It's a great way for an MC to exhibit their spitting capabilities, and in the case with dancers, to show off their moves. Everyone gets their turn in the spotlight, and the best part of it all is that you're always going to be making it up on the go. Cyphers are all about reacting to the beats and showing everyone what you've got.
On May 23, the Korean media platform, HIPHOPLE dropped a brand new iteration to their most recent cypher-esque series, Sloppy Freestyle. No fancy set designs here, and neither does it feature any sort of crazy edits. The focus is all on the MCs who are chilling on a couch with drinks in hand showcasing their brilliant mix of beats and flows.
For this newest episode of Sloppy Freestyle, Gwangil Jo, Skull, Sikboy, and Koonta take over. Sikboy kicks it all off with a fiery delivery over a bouncy beat before Gwangil Jo picks the pace up with an intense and speedy display. When it comes to Koonta's turn, the mood shifts towards a more relaxed vibe. The production on Koonta's snippet is unrushed which gives him the space to slow it all down, and he kills it with a brilliant melodic flow. Then, the mic passes on to Skull who provides a raw and raspy take for all to take in.
The entire episode then culminates with Gwangil Jo and Sikboy dropping two more 16s on two separate beats. One of the best things about this format is seeing each MC reacting to one another's bars, taking in their infectious energy, and supporting each other all around.
Check out the Sloppy Freestyle episode featuring Gwangil Jo, Skull, Sikboy, and Koonta down below.