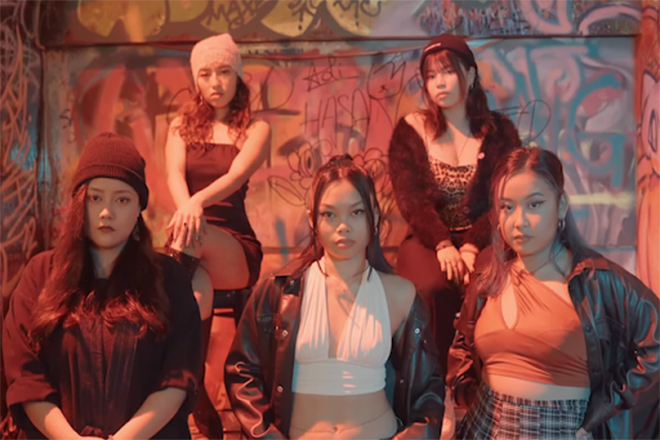 Asia
Emerging Hong Kong Femcees gather for a cypher session
5 young rappers aim to make Canto Hip Hop loud & proud
---
Fresh off of her spin on the popular TV talent show, Kingmaker 4, Hong Kong R&B artist IKA Liu is harnessing her newly-minted fame to expand into Hip Hop. Her latest appearance, alongside four emerging female MCs, is a spicy five-minute Rap cypher.
Featuring youngbloods LZA, IKA, Riva.852, Whampy Jay, and Alexandria山大, the MTM Hong Kong Cypher 2021 #1 is a lyrical celebration of femininity and Hong Kong Hip Hop culture. The ladies all spit lyrics over a '90s Boom Bap style beat that sets the tone for the cypher.
Filipino by blood, the bilingual LZA takes the mic first. Relatively unknown, LZA is not afraid to admit she's new to the game, but she's gonna hustle and grind to make herself a star, and she shows real potential with her smooth, mostly English verse.
Next up is IKA, who has evolved into a well-rounded artist since we first covered her last year. More of a natural singer, IKA flaunts her versatility as a dancer and R&B artist, as she turns in a sultry verse, flipping between poetic Cantonese Rap and R&B stylings while oozing sensuality in a tight skirt and a gray beanie.
IKA's performance might be a tough act to follow, but fellow rapper RIVA.852 shows no hesitation. Leaning on a Trap cadence, RIVA.852 lays out her youthful bars and stresses the importance of promoting Canto Hip Hop while spitting boastful rhymes about becoming the best.
Mixed Filipino and Chinese, the witty Whampy Jay picks up the cypher with a feisty freestyle. With a fierce vocal style, Whampy Jay emanates girl boss energy while dropping pop culture references in her lyrical outburst.
The cypher ends on a high note with Alexandria山大, whose ballistic verse is layered with Chinese proverbs and philosophical concepts. The boundary-pushing rapper gets real as she challenges the blind binary-opposed mindset, dissing rappers who disguise their toxicity as edgy and expressing her belief that the future will be stronger and more inclusive. This girl has speed-rapping skills for real.


'It's very inspiring and empowering, I'm very lucky to have this opportunity to work with such a diverse group of young female artists. My friends are of different ethnicity and cultural background, and we want to remind people that since the dawn of time, Hong Kong has been a multicultural city with much to offer. Pop music is still the dominating genre, but we are here to tell the world that Hip Hop is growing in the 852 and we will make a difference!', Ika spoke to LiFTED in a brief interview.


For those still doubting Canto Hip Hop, fear not because we may have just glimpsed into a bright future for the next generation.

Check out MTM Hong Kong Cyphers 2021 #1 featuring LZA, IKA, Riva.852, Whampy Jay, Alexandria山大 below.