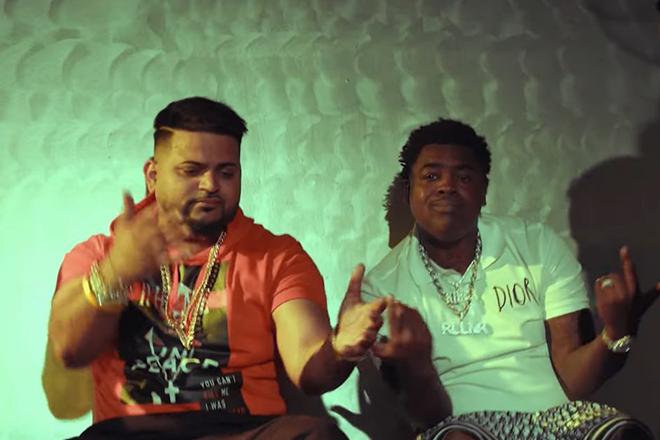 Asia
G-Unit meets Desi Hip Hop in G-Deep's 'Gangsta Rollin in the Club Tonight'
Kidd Kidd & G-Deep bridge the gap between South Asian & Southern US Hip Hop
---
The early-2000s are so hot right now. From the Super Bowl with Dr. Dre's crew featuring Snoop Dogg, Mary J. Blige, Kendrick Lamar, 50 Cent, and Eminem to JP The Wavy's latest video 'We Coming,' Hip Hop fans are loving that turn-of-the-century groove.
G-Deep's nationality is Indian, but he was raised in the New YorkCity and Philadelphia area. He is also a big fan of early-2000s Hip Hop including 50's ubiquitous drunk-girl birthday anthem, 'In Da Club,' so he went out and made a modern-day version with some Desi flavor, 'Gangsta Rollin in the Club Tonight,' with one of the members of G-Unit, Kidd Kidd.
G-Deep said about the video to Rolling Stone, "We shot the video in Atlanta. Kidd Kidd being my favorite rapper from G-Unit, it was an honor to work with him. Kidd Kidd loved the beat, it had the early-2000s Hip Hop club vibes. We just want people to have a great time listening to this club banger."
The Arabic King starts off the video in the VIP room where all the provocative stuff happens. Sexy ladies are coming through with laptops and bottles with sparklers while G-Deep flows smoothly between Hindi and English. Kidd Kidd drops his verses with the pizazz that got him to be part of G-Unit in the mid-2010s.
Even at the end of 'Gangsta Rollin in the Club Tonight,' there's some extra Auto-Tune added to the track to bring back that certain time and place. Kidd Kidd says it best in his verse when he tells everyone to 'Get their Diddy on.'
Check out G-Deep and Kidd Kidd in 'Gangsta Rollin in the Club Tonight' below.