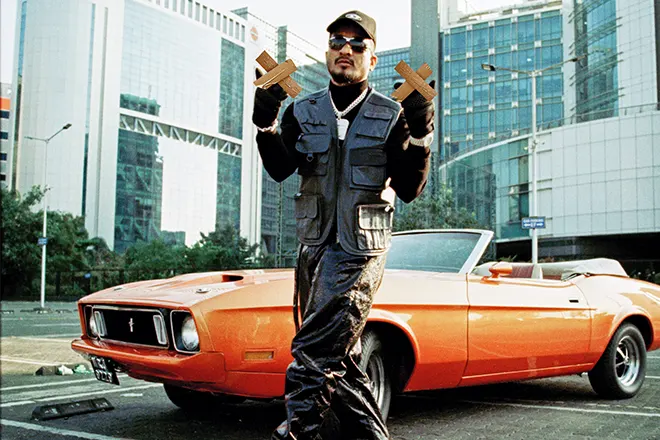 New Releases
Divine aims to start a revolution with new album Gunehgar
The king is back and he's as hungry as ever
---
For the past two years, Gully Gang boss and the leader of Desi Hip Hop has been chilling in the shadows. In April, Divine was spotted at Harry Fraud's Wave Cave as well as at the Grammys on a low-key US trip. The fruit of that excursion is Divine's brand new album, Gunehgar, which is out to change the game with features from Jadakiss, Russ, Armani White, Noizy, and beats produced by Hit-Boy and Harry Fraud.
"Gunehgar is the start to a revolution. I'm going to take that appetite and passion of mine for Desi Hip Hop to unimaginable heights and I hope you're ready!" Divine said in a press release. "There's so much I'm grateful and happy for and I just wanted to express that. As the year draws to a close, this is my humble gift to my community and my fans who've waited so long for a music release!"
The album starts with the title track which was released a few weeks ago. Hit-Boy's groovy beats and Divine's top-of-the-world lyrics set this one off. Newcomer Armani White, of 'Billie Eilish' fame, drops in on track two, the Drilled-out 'Bazigar.' Divine holds his own on this track and the third track, 'Traffic,' with Jadakiss. 'Plush,' the song produced by Harry Fraud, has his fingerprints all over it. It's sample-heavy and would be perfect for a scene in a Bollywood movie, and Divine rides the beat perfectly. 'Hitman' sounds like the streets of New York in the early-2000s, "Akela' feels like church, and 'Blessings' with Noizy has Divine expanding into the Afrobeats sound, which is right now and the future.
When a legend returns to the scene, it's always going to make some noise. Gunehgar is an outstanding body of work that complements Divine's already mythological discography of Kohinoor and Punya Paap. Make no mistake, the king is back and he's as hungry as ever!
Check out Divine's Gunehgar below.