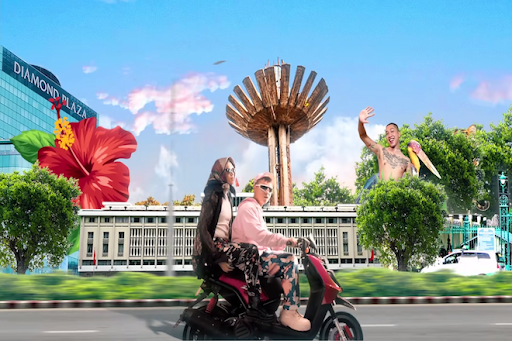 Asia
Dick & CHARLES. push good vibes with pandemic anthem
'LÒNG VÒNG SÀI GÒN' celebrates Saigon pride during lockdown
---
Thanks to the never-ending pandemic, we're all feeling a tad worn out from lockdowns and isolation. Dick and CHARLES., from Vietnam's indie label BẠN CÓ TÀI MÀ, know how frustrating it can be, so they decided to drop a playful, uplifting track to cheer on the citizens of Saigon.
On 'LÒNG VÒNG SÀI GÒN' [Fighting Saigon], Dick and CHARLES. channel their pent-up hedonistic energy with back and forth Rap and singing verses as they riff over a dance-y Hip Hop beat. With a super catchy melody and hook, the good vibes from the Vietnamese duo are irresistible, as they serenade their hometown by celebrating the beauty of a simple life in Saigon while not being dismissive about the hardships people have been facing. Simply put, they believe that positivity and optimism are the keys to fighting COVID.
'LÒNG VÒNG SÀI GÒN' comes with a cleverly put together music video that will win you over with tongue-in-cheek humor, as Dick and CHARLES. move through a pastiche of Saigon's highlights on a motorbike. Heavy on post-production, it still retains an authentic sense of the city with cut-outs of iconic colonial Viet-French architecture, the Saigon Zoo, sexy new skyscrapers, and telecom billboard ads. Dick and CHARLES. even pay their respects to frontline healthcare workers by adding still images of them in the background. The song and equally engaging video don't miss a single trick, and this could easily become the anthem of the pandemic.
Check out 'LÒNG VÒNG SÀI' GÒN by Dick x CHARLES. below.