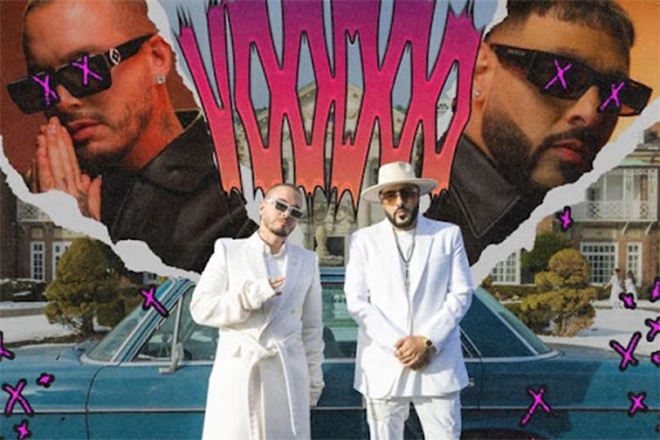 New Releases
Badshah, J Balvin & Tainy got everyone dancing nonstop like 'Voodoo'
The Latino Gang's groundbreaking trilingual anthem brings cultures together
---
Have you ever felt overwhelmingly obsessed in love with someone special? Rapper-singer Badshah from India and J Balvin from Colombia team up with Puerto Rican record producer and songwriter Tainy to drop their new single 'Voodoo' talking about just that. With a combo of Hindi, Spanish, and English, as well as enchanting synths and bouncy Dembow drums, 'Voodoo' is a hit right out of the gate.
Tainy's beat paints the picture of a mystical religious Voodoo ritual on set, and the bass and drums make everyone want to get moving. The clashing of the Indian global star Badshah and Spanish speaking Colombia Icon J Balvin is truly magical, as the catchy flows in their mother tongues are meshed to add an exciting spiciness to the track. The music video tells the story of a woman's voodoo practices, with candles, potions, herbs, and group dancing that transform her into this attractive goddess, making Badshah and J Balvin fall head over heels for her.
The simple repeatable chorus 'You control me like voodoo' puts everyone in the possessed mood and the song has gone viral on Instagram and TikTok with the #VoodooChallenge. Here are a few of the best:
Indian Television child artist Chahat Tewani teams up with her mother and sister to get that 'Voodoo.'

Another Indian dancer who took on the challenge, BBoy Dipak Rajput, who has been on India's Got talent before, this time brought his sister with him, had fun dancing despite their disabilities and their special moves definitely stand out from the crowd.
All the way in Nepal, young Bboy Yaps also joined the 'Voodoo' party with his sisters, dancing outdoors where the flowers are blossoming, bringing extra visual enjoyment to the challenge.
Will you be the next one to join the #VoodooChallenge?
Check out 'Voodoo' by Badshah, J Balvin, and Tainy below.