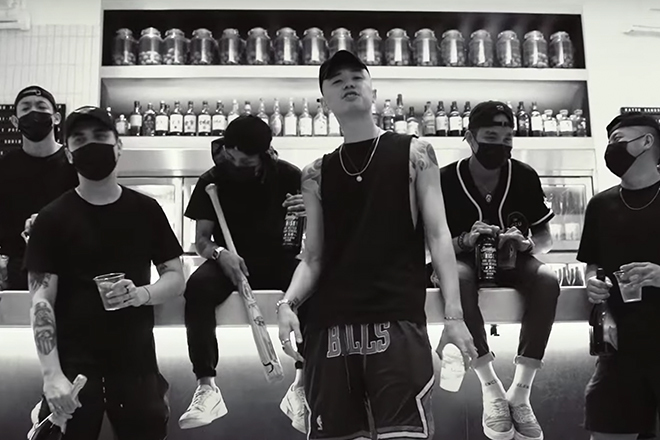 Asia
TXMIYAMA stays repping Hong Kong with new single 'KEYS TO THE CITY'
"This song was paying homage and shouting out everybody that got me here."
---
Hong Kong-based rapper TXMIYAMA goes hard on his new track 'KEYS TO THE CITY,' picking up where he left off with his last release five months ago - with more fire. The song pays homage to Hong Kong, and TXMIYAMA spits fiery bars about turning down label deals just because he wants to keep it real.
He has a few veteran names along for the ride, paying respects to Hong Kong's OG rap group 24Herbs and rising rapper JB. The Canadian-born, Japanese rapper is known for keeping it 100 while calling out everything from social injustice to Hong Kong's superficial nightlife scenes. Most effectively, he tells stories about his upbringing in Hong Kong as a third cultural identity kid.
LiFTED got a chance to chat TXMIYAMA about his latest release.
How did you come up with this new track?
Don't quite remember to be honest but I was probably drunk and thinking about how sometimes artists get so big that the mayor honors them with a street named after them or keys to the city, and then I just took that concept and ran with it.
Music-wise I was at a point in my life where it's still surreal and I'm still amazed I made it this far… I mean I started off at 15, writing shit that barely rhymed in my notebook, and now if I hit the club and the DJ plays my songs they go crazy and know the words. So this song was paying homage and shouting out everybody that got me here because I am thankful every day.
How has your background shaped you and your music?
I'm Japanese, born and raised in Canada, and lived in HK for more than half my life now, but grew up mainly with Filipinos and Indians so I'm just this huge melting pot of culture. I'm also a city boy as they come. I grew up running around HK neighborhoods, chillin' on rooftops, playing pool, drinkin' at seasides, sneaking in underage at Lan Kwai, all that. Who I am and my music is just an embodiment of that HK lifestyle.
What do you think of the current Hip Hop scene in HK regarding the music and style they are creating?
I love it. Ten years ago Hip Hop wasn't even a thing and it was almost entirely EDM. You walk down the strip in LKF and it was just Pitbull. I got so sick of hearing Mr. Worldwide, I swear. Now the guys who were holding it down 10 years ago are OGs, like 24Herbs and LMF. You got the ones who are already successful, big names, like JB, Dough-Boy, Tyson Yoshi, etc.
Now there's a bunch of these young guys, like teenagers or early 20s, who pick up on all that and can freestyle, sing, rap, the whole package, and it's really exciting. Some artists might want the scene to be smaller so there is less competition but I definitely want it to be bigger. Hong Kong is such a small city we should move like a family to put us on the map first, then we can beef amongst each other.
How do you balance and manage between working at a restaurant and being a rapper?
I don't really sleep. I work like 10 or 12 hours a day so I only have after work, which is at 1 or 2 AM to start doing music-related stuff. But that's OK because writing and recording music is stuff I like to do anyway, I don't have ADHD but I can't sit still through a movie anymore, I always need to be doing something, whether it's mixing a new song down, looking for beats, just writing random hooks and 4-bar setups. I don't remember the last time I slept before the sun was up.
How do you always get a big group of people to support you in all your videos?
Those are the homies. I worked at Ozu on Hollywood Road for five years so for those five years I was kinda in the middle of everything and everyone, drinking with a bunch of friends, both old and new. You can ask around but that bar became a home, or a mandatory pitstop, for cliques of all ages and nationalities. The big crowd you see in my MVs all have one thing in common, and that's Ozu. We all considered that place home so I just send out a text message before I do the MVs and most of the guys will show up just to relive that. Plus I don't let anybody pay for shit, I take care of it, I just want everybody to have fun and not think of it as something they HAVE to come to, so who can say no to a freeflow Hennessy fest?
Anyone you wanna shoutout?
Shoutout to my moms. I hope she's not reading this because she still doesn't really know what I do and I don't plan on telling her. I'm still an Asian son at the end of the day.
Check out TXMIYAMA's latest track 'KEYS TO THE CITY' below.