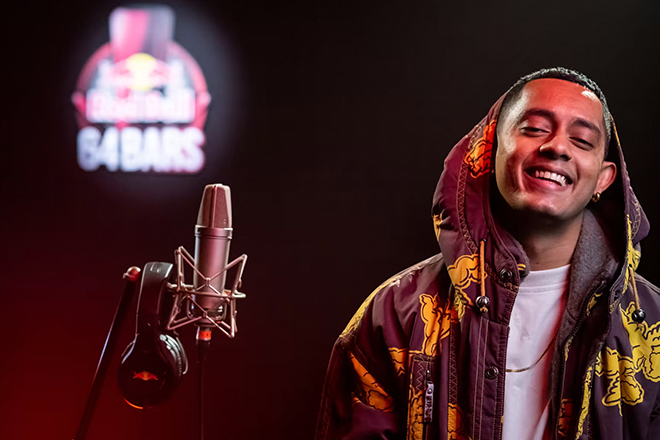 New Releases
Hanumankind spits hot fire for Red Bull 64 Bars 'Third Eye Freeverse'
The Bengaluru-based MC just keeps going & going & going
---
Sixty-four bars are a lot of words when you think about it. An average rap verse is eight to 16 bars, so this is four to eight times as many words, rhymes, and thoughts. There's no hook to take up some time. There's no R&B singer on the chorus. Instead the 64 bars are just straight spitting fire.
Hanumankind is the final MC for the first season of Red Bull 64 Bars, and he's out to show off his skills in a big way. Over a beat produced by Karan Kanchan, the Bengaluru-based MC goes off. He thinks this is more of an undertaking than an actual song. "As a challenge or exercise, I think this format 100 percent lets you flex your fingers and try out things. Red Bull 64 Bars, at the essence of it, is a test of your pen game more than anything. Like, this is not simply a song. I was just going at it, so I think it was good practice. It was good fun. I think everybody else that was part of this can attest to that."
In 'Third Eye Freeverse,' Hanumankind shines over a gospel sample. For the first two minutes, he flexes his lyrical flexibility, then the beat drops out and it's only the sample. Hunumankind signals to Karan to switch up the speeds and the sample slows down and a new beat drops in. The incredible thing is that he doesn't miss a bar and just keeps rhyming. "Come around my way/Make sure you hydrate/Cuz I got heat, yeah/Make the birds migrate/When the boys speak?/Celly gone vibrate when they call me/When they call me like Ah ah/I go filling up my plate/Government irate/Cuz the way I'm paid/Doesn't get them paid/So they tryna' find me/But I say fuck that/Stay low key."
'Third Eye Freeverse' is a four-minute lyrical marathon that proves that Hanumankind is a beast on the mic. Look out for more from him as he's on the up and up.
Check out Hanumankind and Red Bull 64 Bars' 'Third Eye Freeverse' below.