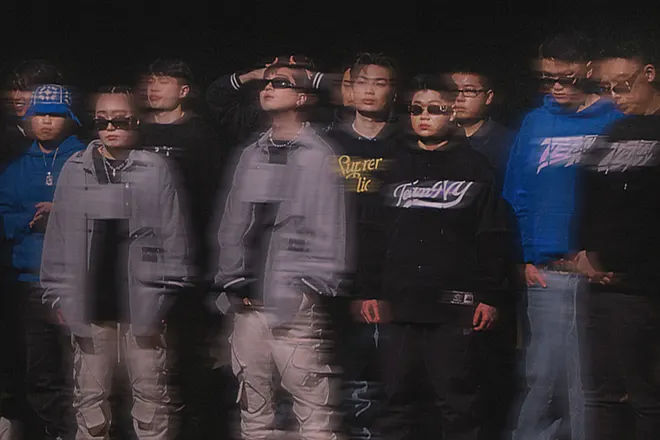 New Releases
HIPHOPLE drops a mega cypher THE: RISE 5 featuring 14 Korean MCs
Each MC came with their best & left no crumbs behind
---
Participating in a cypher is a great way for an MC to showcase their rapping prowess. It's also a brilliant way to introduce themselves to a brand new audience, as they only usually get a brief window to spit, which in turn, makes them drop their best bars and flows. On March 6, HIPHOPLE, an online Korean media platform, dropped a steaming 13-minute cypher featuring 13 different MCs.
The cypher opens up with NY BABY, NY DOGG, and EPTEND who go back-to-back over 'ANACONDA', a beat produced by BUGGY. The trio went absolutely hard, setting the tone for the next 11 minutes. The baton was then passed on to NY KID and omyo, with the former raising the energy completely with his energetic delivery, before the latter took it down a notch through a relaxed approach. Although it was the same beat, the two MCs here showcased how their respective styles can still fit into it, and at the very same time, kill it.
99' Nasty Kidz, a female and male duo, then continued from where NY KID and omyo left off. Their synergy displayed here is remarkable – finishing each other's bars and ad-libbing for one another. Hottiehottiebaby then takes on from the duo, followed by JP who rounds off the bars dropped on the beat 'Messing Around' by HOLYDAY.
한지원 [Jiwon Han] is then introduced. He goes to town as soon as he steps into the camera's view. He alternates his flow between delivering bars in a fast and slow-paced manner showcasing his skills. Afterward, Goi enters the fray with a calm demeanor.
For the final portion of the cypher, PULLIK, XINSAYNE, and Raphael were given the honors to close it all off. Over a groovy and mellow 1990s Boom Bap beat, the trio respectively channeled out a chilled energy to subdue all the flames ignited by the previous MCs. It's a brilliant way to send it all off, and Raphael is one to look out for.
Check out HIPHOPLE's 'THE: RISE 5 메가 싸이퍼' below.