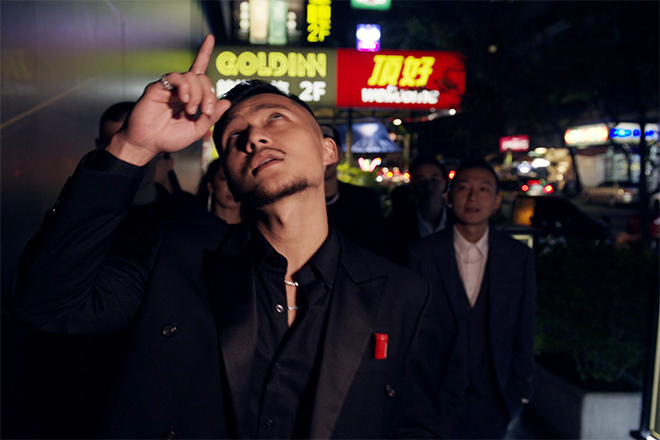 Asia
DJ Flex Chapman taps FRαNKIE阿法 to hit the Bboy stance on '參柒步'
The boys have a wild night out in a seedy part of Taipei city
---
參柒步 is slang on the streets of Taiwan that directly translated means 30 percent of your weight is on your front foot while 70 percent is on your back foot.
Think old-school Run DMC pics. Think arms folded in a freeze at the end of a battle. Think of a crouch down with a leg out.
DJ Flex Chapman, creator of the beat of '參柒步,' says, "People use it to mean 'cocky pose' kind of like 'Bboy stance.'"
Flex decided to ask FRαNKIE阿法 to rap on the beat after he talked to his good friend, LEO37, who is helping guide the project. "I played the '參柒步' beat for LEO37, and we went back and forth discussing who would be best to rap on it. During this process, I watched the ANBA 'Booty Call' video featuring FRαNKIE阿法 and Sowut and I felt like FRαNKIE阿法 would be perfect so LEO37 sent the beat to Frankie and Frankie said he was down."
In the video, FRαNKIE阿法 and his crew strut around Linsen North Road in Taipei, which is a street with a nefarious reputation full of Betel Nut girls and legal and semi-legal KTVs and pubs. Nick Vaky, the director of the video for '參柒步' said, "Flex said the concept he was looking for was 'a crazy night in Linsen" so we built the video around the idea of capturing a slice of that particular type of Taipei nightlife which is very unique to Taiwanese culture. Our goal for the video was to really show the experience of hanging out on that street, so the suits of the people in the video match the doormen at the KTVs, and the lighting was meant to mimic the neon LED look of the area. We even got lucky that it rained a little and the street was reflective and wet giving it that extra bit of Taiwanese flavor that is so common when hanging out at night in Taipei."

Be on the lookout for more music from DJ Flex Chapman. He's been making beats since high school but only recently starting putting out songs. He's got an EP coming out soon with all Taiwanese rappers as well as a song with Big Game James in Texas.
DJ Flex Chapman featuring FRαNKIE阿法 can be watched below.