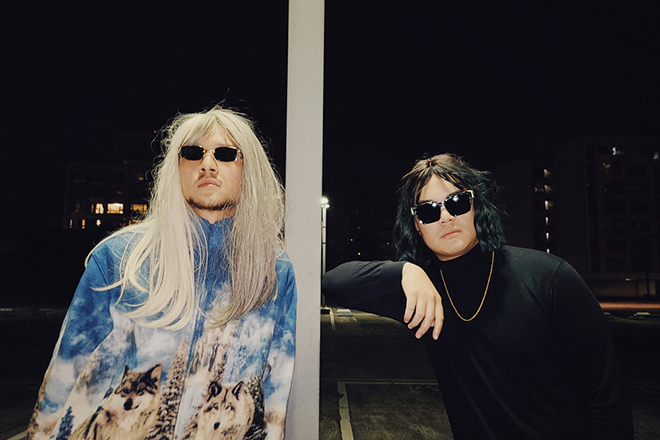 Asia
BRAD & FRαNKIE阿法 pull out the Iron Lotus for 'Blades of Glory'
The Taiwanese duo ventures into fantastically absurd places for their new video
---
It all started with a photo shoot.
One day, BRAD & FRαNKIE阿法 were brainstorming nonsensical ways to entertain people. They decided on recreating the movie poster for Step Brothers starring Will Ferrell and John C. Riley complete with sweater vests and feathered back hair. This got some chuckles in person and online so they decided to really go for it.
"We both love all the Will Ferrell movies," BRAD said in an interview with LiFTED. "After the Step Brothers photoshoot, it seemed like there was a big audience who likes dumb shit, so we've been making dumb shit since day one."
In 'Blades of Glory,' BRAD & FRαNKIE阿法 don't hold back. They don wigs, rock Biggie COOGI sweaters, talk about doing bad things to the Zamboni, and even dress up as The Rock in high school with black turtlenecks, gold chains, and mom jeans.
In some scenes, they are walking backward on elliptical machines, and in others, they have snuck into the upper deck at an ice rink to cause some trouble. In the climax of the video, BRAD & FRαNKIE阿法 have a Costco storeroom all to themselves and are able to perform their version of the famed Iron Lotus...with the help of a small cart.
BRAD used to be in a band in high school, but he ended up selling his guitar and bought a mixer. "All my friends were doing Hip Hop, so it made me want to go hard into Hip Hop."
After releasing a few singles, BRAD got some good feedback from friends so he took the time to learn how to make beats, produce, and write songs. Then he met FRαNKIE阿法 and they just clicked. "It was the fluidness of his flow and his entertaining lyrics that had me like, 'Yo, I want to fuck with this dude."
And then they decided to do a photo shoot.
'Blades of Glory' by BRAD & FRαNKIE阿法 can be watched below.
They will also be performing at the LiFTED launch party on April 4 at Klash. No word on whether they will do the Iron Lotus.