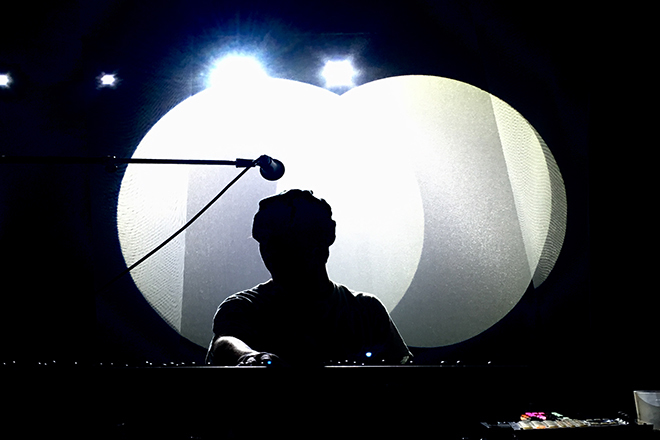 New Releases
Celebrate the chaos of the crowded city in Koothu ஒலி's iNDiATMOSPHERE
After studying rhythm, Koothu ஒலி collected sounds, music, & stories
---
Beatsmith and producer Koothu ஒலி has delivered a beautifully funky eight-song EP on the 4NC¥ label that pretty much hits on all cylinders if you're into Lo-Fi Hip Hop instrumentals with lots of South Indian masala.
It's spicy, chunky, and doesn't spare the chilis or ghee.
The tracks contain spoken word snippets, live field recordings, Indian cinema samples, and some moog-ish gurgling that keeps it analog feeling – all with a heavy dose of Detroit-inspired production.
Like his compatriot Onra who created Lo-Fi SE Asian-inspired beats, Koothu ஒலி hails from France, and cut his teeth in the Berlin scene where he worked with the likes of Amp Fiddler and Vernon D Hill of Slum Village. Eventually, he followed his heart to Karnataka in South India where he studied Indian sounds and rhythms and turned his knowledge, collected samples, and field recordings into iNDiATMOSPHERE's eight tracks.
The EP kicks off with the funny, introductory 'NAMASKAR' [Good Day] and an Indian woman explaining, 'Koothu ஒலி is proud to introduce to you his first EP' where 'samples of everyday life and Bollywood movies will merge in this project.' The only song with vocals, 'South iNDiAN BLUES' features Bangalore rap pioneer Smokey the Ghost and MC Bijju, who's nicknamed 'Machine Gun' since he rhymes in rapid-fire Kannada.
The crown jewel on the EP is the funky, filmi, sublime 'SHAANTI' [Peace] which starts with a guru's spoken word and then employs the Moog and samples with MPC kicks and cinematic, atmospheric bliss – all on a deep Jazzy bassline.
Just sit back and enjoy the vibes on this one, you won't be disappointed.
Listen to Koothu ஒலி's iNDiATMOSPHERE below.