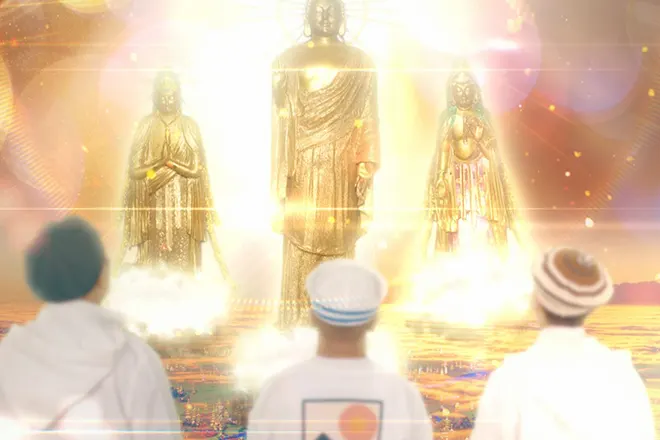 New Releases
Set sail with 'Bon Voyage' by EVISBEATS, Nagipan & Dengaryu
Get set to depart from the average with this Jazzy gem
---
Kansai beatmakers from the south have been rising in Japan, and EVISBEATS from Wakayama is one of them. He used to rhyme by the name of Amida, and after he left his original crew and flew solo, he released a self-titled album, 'AMIDA' in 2008. Combining Hip Hop with Japanese culture, the best work on the album was 'Just a Moment,' a dreamy Boom Bap track that sampled 1960s Rock band Sam Kapu's 'Chotto Matte Kudasai', one of the most known Japanese phrases, which means 'please wait a moment.'
Being meditative is at the core of EVISBEATS' creations. He merges the beauty of nature, Zen and ancient Japanese elements,​​ with a variety of soothing retro tones to formulate his authentic and poetic Hip Hop style. He has collaborated with a diverse group of artists, such as his homies, 田我流 Dengaryu on 'ゆれる', '夢の続き', '今日は休みだ' and 'Blue', as well as Nagipan, on '果汁牛奶', 'S.M.I.L.E', 'On Rei' & 'Can you see it' featuring. J.Lamotta Suzume.
On EVISBEATS' latest album 'PEPE', the trio collaborated once again for the superb 'Bon Voyage', and dropped an equally creative visual last week for the Jazzy, 1990s-inspired song. The track itself sounds somewhere between Cibo Matto and A Tribe Called Quest; in other words, slightly kitschy around the edges and funky as hell. EVISBEATS and crew take a good trip throughout the ups and downs in life, with Dengaryu as the captain riding the boat and the bars, while EVISBEATS and Nagipan drive the rhythm.
The casually minimalist video is a work of art and definitely takes the song to the next level, taking them up to Devaloka, the realm of gods and goddesses, and then down to hell with some cleverly simple CG and animation. The Buddhist influence on this new album is unmistakable, with the last track titled 'Shichibongo' [the four forms of the wisdom of a Buddha.] So it's not a surprise to see these elements in the 'Bon Voyage' video, but it's hilarious to see them enjoying a hot spring of blood, and cheering at the eternal fire that is torturing the sinners - eventually lifted by Buddha's palm to the Pure Land.
"Don't overthink shit!/Leave it to your intuition/Steer and explore the interesting side/Don't worry, don't worry," rhymes Dengaryu. This whimsical track rests on one of the funkier bass lines you'll hear all year, smoothly reminding us to enjoy ourselves through all phases, even when life's a trip. 'Bon Voyage' indeed.
Check out EVISBEATS & Nagipan's 'Bon Voyage' featuring Dengaryu below.