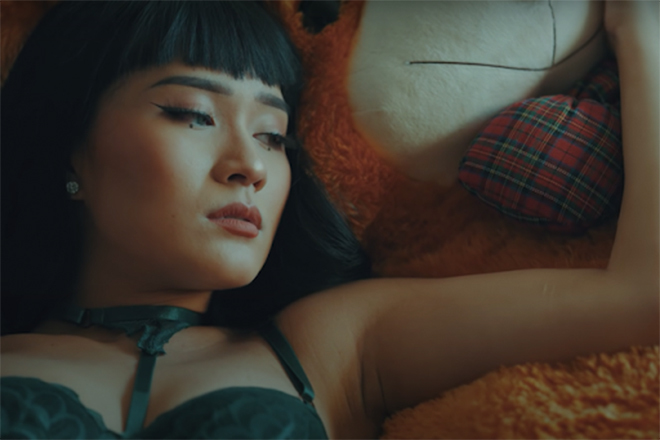 New Releases
BADB!TCHBKK mourns a toxic relationship because she knows better now
Break-ups can be difficult
---
Bangkok rapper-singer and self-proclaimed professional attention-seeker BADB!TCHBKK has recently released her new track 'รู้ทั้งรู้' [I KNOW] featuring Thai Hip Hop artist TARVETHZ. The song portrays a heart-wrenching break-up from a toxic relationship.
BADB!TCHBKK made her debut as a rapper two years ago, with a bilingual R&B tune 'ดีกันนะ,' which gave her a good start in the game. With her catchy, melodic Rap flows and diverse vocals, as well as her sexy figure and fashionable style, BADB!TCHBKK blew up on the internet and now has over 33.4K followers on Instagram and 8.14K subscribers on YouTube. She was also listed as The New Face of Year on Rin Awards 2021.
Being in a toxic relationship is inevitably painful, and even someone as fly as BADB!TCHBKK has been heartbroken, too. In her latest track, 'I KNOW,' she shows her vulnerable and sensitive side through this emotional, guitar-based song, where she pours her heart out singing the chorus of bitter truths in Thai, "Knowing that you are being deceived/Knowing that you only came to hurt/Know and know, don't have to let anyone tell/But my heart still hurts in the same place every day/What must I do?"
BADB!TCHBKK's pain is right on the surface as her emotions of love, disappointment, grief, and anger are conveyed throughout the song, Towards the end, she breaks down into tears that looks more like an aching remembrance of something she actually experienced than just an act for art.
Having TARVETHZ on the tracks roleplaying as a couple paints a fuller picture of the relationship dynamic with both masculine and feminine perspectives. This makes the tune sound fuller and like a real conversation. Anyone who has gone through a toxic relationship, been manipulated, abused, or has ever felt gaslighted definitely will catch feels during this song. Perhaps they may find a bit of relief through BADB!TCHBKK's soulful piece, too.
Check out BADB!TCHBKK's 'รู้ทั้งรู้ ' [I Know] featuring TARVETHZ below.