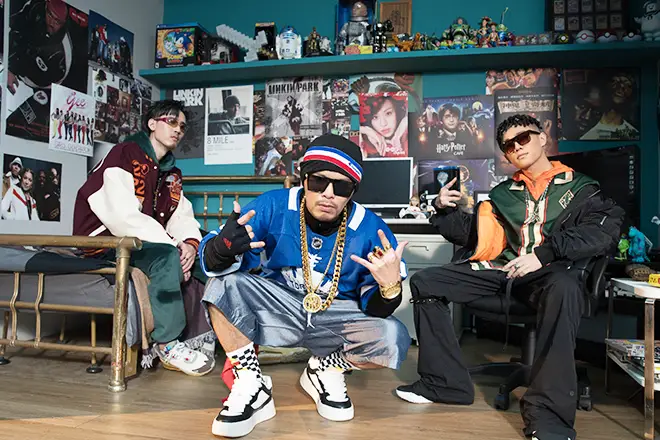 New Releases
'809000' is Namewee's awesome juxtaposition of the decades
Machi Didi & Frog are along for the ride that appeals to 3 generations
---
Rap music is 49 years old and counting. In Namewee's latest video, '809000,' the Taiwan-based Malaysian rapper is going from Gangsta Rap to Trap and everywhere in between with his intergenerational cohorts Machi Didi and Frog.
In the first scene, Namewee is an 80's baby as he plays Nintendo, rocks a fat dookie rope with a Yankees' spinner on it, and flexes with a boombox. He loves the Chicago Bulls with Jordan, Pippen, and Rodman, Street Fighter 2, and even has a first-generation Tamagotchi.
Second up is Machi Didi, and he's showing off that he read all the Harry Potter books, was down with Linkin Park, and was always stressed out by dial-up modem. His 90's babyness is strong as he loved Kobe Bryant and even gives a shout-out to his family lineage with a Machi poster.
Finally, we get to a 2000s baby with Frog representing QR codes, Uber Eats, filters on social media, and Pokémon GO. '809000' is a great juxtaposition of three decades worth of Hip Hop flyness in trends and music.
The beat of '809000' gets some extra love here, too. It starts off like 'Still D.R.E,' then morphs into a bit harder and chunkier for Machi Didi's verse. On the final stanza, goes straight Trap, then flips back into the first one on the chorus. It's a heater, for sure.
Namewee is one of the best at making viral YouTube videos that make people think and nod their heads at the same time. Even though all three rappers are from different eras, it's easy to see that the same language is spoken - Hip Hop.
Check out Namewee, Machi DiDi, and Fish in '809000' below.