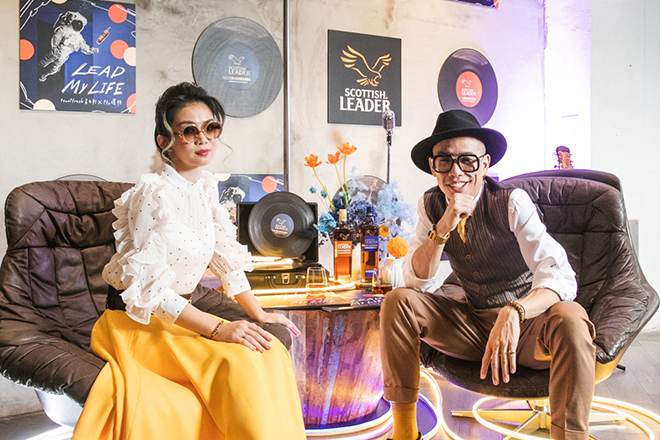 Asia
Listening to Trout Fresh & ?te's funky 'Lead My Life' makes the whisky taste better
The mysterious songstress & Taiwan's most creative rapper team up for the first time
---
It all starts with a 22-second pour of Scottish Leader whisky next to a fishbowl. 'Lead My Life' is definitely not subtle when it comes to being an advertisement in Taiwan, but this is more than made up for by the clever pairing Trout Fresh and ?te on this Jazzy Hip Hop number.
The singer ?te [pronounced Why-te] is always hidden behind a big hat and oversized shades. This means that any move she makes has an aura of mystery surrounding it. She starts off the song like it's a Jazz standard as her posh voice is tickling the track.
As soon as the beat kicks in for the chorus transforming the slow Jazz into a Disco beat, Trout Fresh jumps in. His raps feel like they come from a place of sincerity even when he is out here hustling whisky. There are some extra backing vocals on 'Lead My Life' that give it a Zapp-esque feel that makes listeners want to get up and dance to the fridge while preparing the next whisky and ice.
The video is a thing of beauty. The blue colors in the beginning match Scottish Leader's label and hint at the first taste of whisky. As soon as it goes down the throat and hits the body, the funky chorus drops, and the colors for the whole video turn orange. This is just like when the buzz of that first drink of whisky starts to kick in and gets the body moving.
Whisky ads are usually very stoic and aimed towards older gentlemen who are well off. 'Lead My Life' is quite ingenious as it has a bit of that but also shows how fresh and appealing Scottish Leader is to younger generations by grabbing some of the hippest artists in Taiwan to work with.
Watch 'Lead My Life' by Trout Fresh and ?te below.