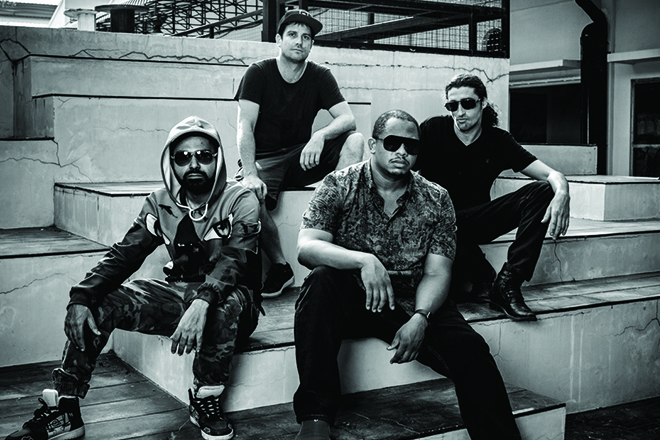 Asia
Cambodian rap group Funan Beat Empire debuts a dark industrial Hip Hop album
Retrofuturism is a portal into an eerie dystopia
---
Lead by the infamous rap duo Hypnotic Fist Technique, and adding renowned producer Pierre Lenormand and bass specialist Adrien Gayraud [of Moi Tiet & The Schkoots], the Phnom Penh-based rap group Funan Beat Empire put out their album Retrofuturism last month. These nine tracks address obvious issues like environmental destruction, horrible economic policies, and political chaos, especially in the post-covid world where orders have fallen and norms have been bent out of shape.
Having lived in Phnom Penh, Cambodia for more than 10 years, Initial G and Mike Dynamo have made quite a name for themselves as Hypnotic Fist Technique while they hopped from bars to live houses showcasing their love for Rap while fusing their live performances with Rock, Funk, and Soul music. On the album Retrofuturism, they bend their genres once again by drawing inspiration from experimental electronica and mixing it with traditional Khmer instruments like a roneat [a type of xylophone], a tro [a stringed instrument], and a khong [a circular gong] to construct this Blade Runner-esque dystopia ravaged with anger and remorse.
The highlight is definitely the opening track 'Megacity.' Starting off with an analog synthesizer that signals the end of times and a mysterious female voice that resonates in traditional Khmer music, Mike Dynamo blasts off with sturdy bars criticizing society for relying too much on corporations and technology. Initial G follows with a verse that scoffs at the treatment minorities face as government policies put them at a disadvantage. 'Megacity' encapsulates the theme of Retrofuturism profoundly as the high energy old-school Rap merges seamlessly with cyberpunk aesthetics.
Citing themselves as 'dark industrial Hip Hop,' Funan Beat Empire delivers a sensational album as they channel their uncensored insights with collections of sounds that are unheard of.
You can purchase Funan Beat Empire's Retrofuturism at their Bandcamp link here or listen below.