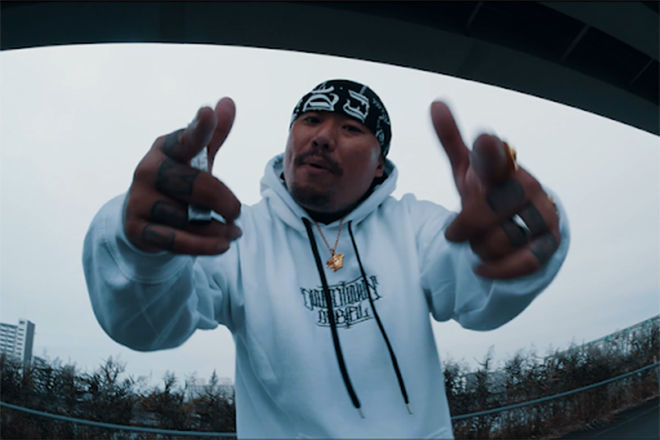 Asia
Japan's DOWNTOWN CARTEL creates a dark Hip Hop visual
The streetwear brand enlists rappers O-JEE & TARVETHZ
---
From anime to Hollywood, Tokyo's neon-lit cityscape has inspired generations of artists. DOWNTOWN CARTEL, a Tokyo-based apparel and street fashion brand, has enlisted Japanese rapper O-JEE and Thai MC TARVETHZ to wax poetic about Tokyo's mysterious nightlife in a gritty collab video titled ​​'亜細亜舞夜.'
Backed by a driving Trap beat produced by Japan's ZOT on the Wave, '​​亜細亜舞夜' has elements of gangster rap and hardcore in a tight three-minute visual shot in dirty back alleys and a druggy, dimly-lit party. O-Jee, the self-dubbed 'Japanese Samurai' unloads his verse with cut-throat lyrics and a razor-sharp flow. You can tell by his name and his skillset that O-JEE ain't new to this. He's got bars for days.
Thailand's TARVETHZ follows up with his signature raspy braggadocio, flexing his whole verse in street slang English. The DefJam Thailand star looks right at home in a dark party setting with a sexy stunner on his lap. Due to the pandemic, they had to shoot their scenes separately, but it's still the same vibe whether in Tokyo or Bangkok. O-JEE, sports a cap and hoodie from DOWNTOWN CARTEL, as he strolls across a desolate, late night Tokyo with his crew, while TARVETHZ gets busy in a neon-lit trap house.

Established in 2019, DOWNTOWN CARTEL has quickly established its presence throughout Asia as the street fashion and apparel brand that is willing to take risks. In 2021, they hosted their first cultural event in Las Vegas, evolving from national pride to global success. They also started their own record label of the same name, where they recruit local talents to produce Hip Hop tracks.
'亜細亜舞夜' marks their first cross-border collaboration. Given the language barrier and unique cultural structure, it can be challenging for Japan's artists to break into the international market, even if they are influential domestically. With brands like DOWNTOWN CARTEL connecting the dots, it looks like 2022 could be a big year for Japanese Hip Hop.
Check out DOWNTOWN CARTEL's 亜細亜舞夜 " featuring O-JEE & TARVETHZ below.