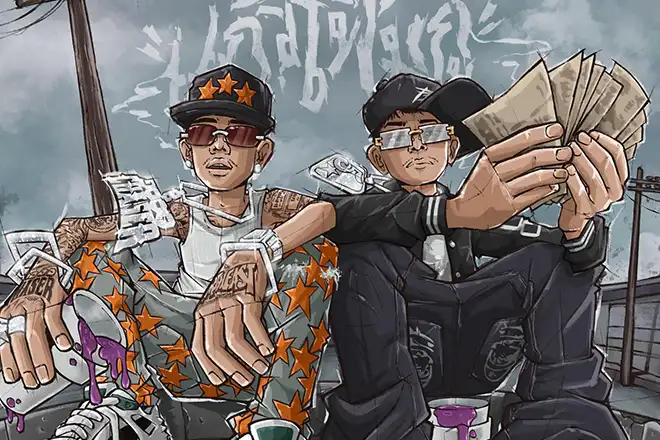 New Releases
1MILL & 4BANG connect for 'แก้วโฟมกู'
Two of Thailand's most consistent MCs collide
---
What comes out of a collaboration between the two of the most consistent and coldest rappers in Thailand? The banging track 'แก้วโฟมกู'. 1MILL and 4BANG are the two said MCs, with both dropping two albums in 2022, alongside a string of singles. These two stars aren't strangers to each other either, having worked on tracks together before as 1MILL is on 4BANG's 2022 tape titled REAL GHETTO BOYZ.
And now they're continuing their hot streak from 2022 on with their brand new collaborative single 'แก้วโฟมกู'. The track arrived on Valentine's Day, and if you think that it's a love-focused track, you can't be further from the truth. In the music video that accompanies the track's release, the duo i seen backed by their crew, flaunting their jewelry, cash, and guns, alongside cuts at their concerts. No chocolates or roses here.
The two-minute track's instrumentation, which is produced by Bigyasen, takes on a minimal approach. A thumping kick drum carries the flow of it, while subtle synths play out the entirety of its melody. This allows more room for 1MILL and 4BANG's delivery to shine, and they did a stellar job. 1MILL takes on the duties of the first verse, which is then followed by 4BANG, before culminating with the two MCs going back to back. In an Instagram post promoting the track, 1MILL wrote: "After this one hit a mill, I'll drop the next one."
There's non-stop fire coming out of Thailand at the moment, and we're here for it all the way.
Check out 1MILL and 4BANG's official music video for 'แก้วโฟมกู' down below.