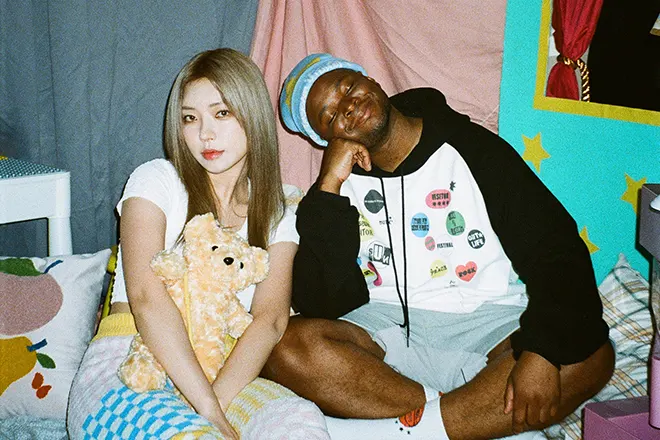 New Releases
Summer Soul & ROMderful escape from reality on dreamy 6-track EP UTOPIA
The first single & video is the fanciful 'My World'
---
Korean R&B singer Summer Soul and British-born, Korean-based producer, DJ, and multi-instrumentalist ROMderful have just released a delightfully Lo-Fi EP, UTOPIA, that sounds a lot like summer 2022. With its many layers and dreamy sensibilities, UTOPIA is perfect for hot days by a river, brunches on a breezy balcony, or soaking up the sun on a picturesque beach.
The first single and video, 'My World,' was released June 10 and shows Summer going deep into her own consciousness. She wakes up as a 3D character in a two-dimensional world. She wins some awards, has the paparazzi at her beck and call, and by the middle of the song, has ROMderful join her in her dream. While they are falling in love while riding a tandem bicycle, both are represented by lovable puppets. Soon, Summer wakes up from her dreams and only has her memories left.
'My World' is described as, "A place where there are no nightmares, no sorrows, and nothing in this world. Together on cloud 9, they build an ideal world together desperately hoping that it was an unbreakable dream. As the song ends, they realize that it was all an illusion that did not exist in the first place."
The other five tracks on UTOPIA are equally as curious and dreamlike. 'Hi There!' gives a good intro to the project, while 'Cloud 9' has a little more Hip Hop attitude with some Boom Bap drums and Neptunes-inspired basslines in there for good measure. 'Why So Serious?' is the Joker's favorite saying as well as the closing track that ties a little bow around the 16-minute EP.
UTOPIA feels like Summer Soul and ROMderful got onto each other's wavelengths, found the right groove, and made a cohesive piece of dynamic art.
Check out the video for Summer Soul and ROMderful's 'My World' and listen to the EP Utopia below.