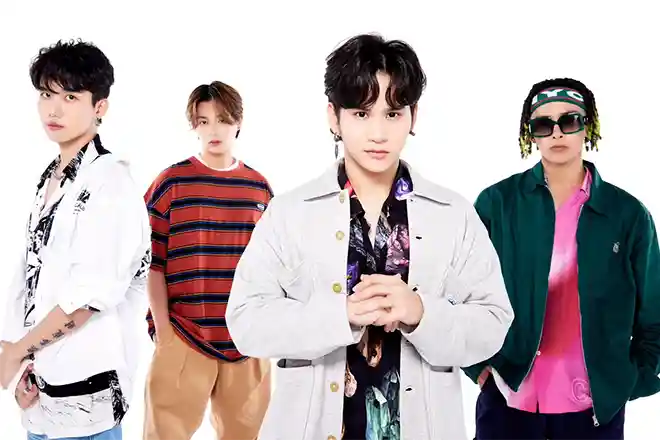 New Releases
Baby Mic Candy is born again on 'TAKE OFF'
Thailand's actor and artist FIAT joins the group as its 4th member
---
Since their explosive debut with 'RUN', the Japanese-Thai Rap group Baby Mic Group [BMC] has always set their sights on expanding their star power over their home countries. This makes the newest addition to the group – prominent Thai actor and artist FIAT - a welcome addition to the fun-loving aesthetic of BMC. 'TAKE OFF' then serves as the first single where all four members flaunt their chemistry as they are reborn as an all-new voice in Japanese and Thai Hip Hop.
The track sees the group rapping over a vicious trap beat – a far cry from their breakbeat-inspired debut, as they fully embrace their love and proficiency in rapping. Moto, Goli, Yuki, and FIAT deliver Auto-Tune-lathered performances on the chorus and hard-hitting rhymes for the verses in their respective languages. The single is produced by up-and-coming music producer, SpatChies, who has worked with many of Thailand's leading rappers such as MILLI, MAIYARAP, 1MILL, and Younggu.
"I have full confidence that we can go a long way together," said FIAT in a press release, "This is only the beginning, but I get lonely every time I don't see them. It is as though we are having a party while we are still getting our work done."
The group has also been documenting their journey across Thailand in their weekly YouTube series B.M.C Way – from going to music festivals to their dance practices. It's an intimate look into the lives of BMC and their ever-growing friendship.
Watch the music video for Baby Mic Candy's 'TAKE OFF' below.