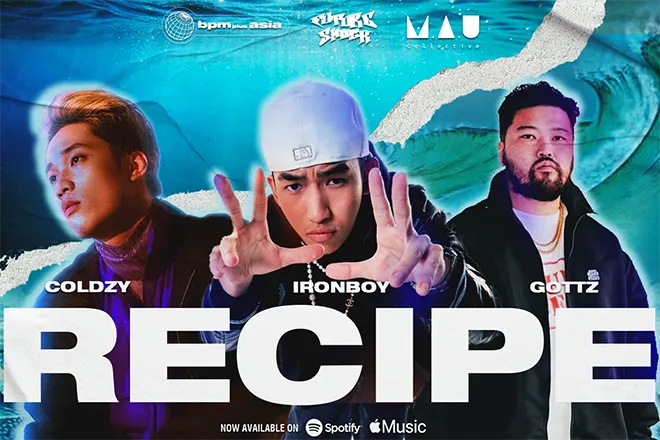 New Releases
Coldzy, GOTTZ & IRONBOY have the 'Recipe' for a summer-ready party jam
It's not too hot for the Vietnamese, Japanese, & Thai rappers share their secrets
---
Last week in Europe, temperatures hit 40 degrees, and the whole continent had heat stroke. The news warned people to stay inside and that runways for airplanes were melting. The thing is, in Asia, 40 degrees is normal during the summer and people need a way to survive the heat. Luckily for us, three MCs - Coldzy from Vietnam, GOTTZ from Japan & IRONBOY from Thailand - have the 'Recipe' for a summer-ready party jam.
On 'Recipe,' a triple cross-country collab organized by M.A.U Collective and bpm plus Asia, instead of banging it out, the three rappers go the laid-back route in order to rock every pool party, barbeque, or lounge session near a body of water. On the hook, Coldzy Auto-Tunes it up by calling out the fakers, "I got my recipe, recipe/Can't stand y'all wannabes, honestly/I got my recipe, recipe/Can't stand y'all wannabes' recipes."
On the verses, GOTTZ and IRONBOY trade their summer tales. GOTTZ pens a letter to summer, explaining that with pen, paper, some good beats, and a few shots of Hennesy, everything is going to be alright. He even shouts out burnt asphalt and the money he makes on Tunecore. IRONBOY's Thai bars sound nice over the track as he raps wistfully about Bangkok having his back and all the money that he has in stacks.
While the world is heating up for the summer of 2022, 'Recipe' lays out the perfect ways to enjoy the hot weather by three MCs in different parts of Asia.
Check out Coldzy, GOTTZ, and IRONBOY on 'Recipe' below.